Whitmore
BICKLETON — Tami and Jack Whitmore will celebrate their 40th wedding anniversary with an open house from 1-4 p.m. Saturday at the Neighborhood Church, 385 E. Allen Road. The event is being hosted by their children and grandchildren. She is an author, and he is a retired farmer. The couple requires "no gifts."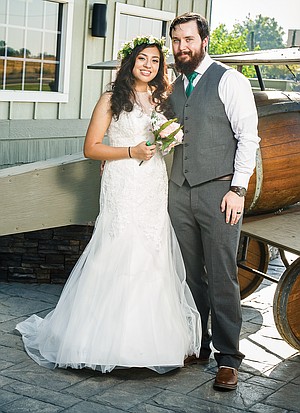 Gomez and Johnson
The Airfield Estates Winery was the setting for the Sept. 2 wedding of former Grandview residents Tanya Gomez and Eric Johnson. She is the daughter of Emma Gomez and he is the son of Mike Johnson. Lia Pena of Grandview was maid of honor and bridal attendants included Samantha Thornton, Erica Gomez and Sandra Newman, all of Grandview. Elizabeth Newman was flower girl and Isyss Gomez of Richland was ringbearer. Aaron Ling of Spokane was best man and ushers were Enrique Ochoa and Jesus Reyes, both of Grandview and Jeremy Garza of Sunnyside. Following a wedding trip to Lincoln City, Ore., the couple is at home in Richland, where he works for Balfour Beatty Construction. She is a teacher's assistant at EPIC. The bride is a graduate of Grandview High School, Yakima Valley Community College and Washington State University. She is also a writing consultant at YVC. The bridegroom, who also is a Grandview High School graduate, graduated from Central Washington University in Ellensburg.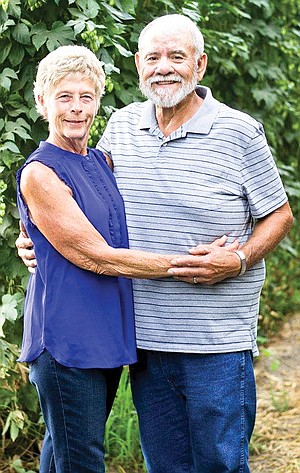 Charvet
Bernie and Marlene Charvet celebrated their 40th wedding anniversary with a two-week cruise, including passage through the Panama Canal The couple was married Nov. 12, 1977, at St. Paul's Cathedral in Yakima. Marlene was a registered nurse for more than 40 years and retired in 2015. Bernie retired from SS Steiner Hop Corporation in 2016. They have lived in their Grandview home for the entire 40 years. They have a daughter, Krista Gustafson of Boise Idaho, three grandchildren Xander, Seveja and Noah Gustafson. They enjoy gardening and spending time with their grandchildren.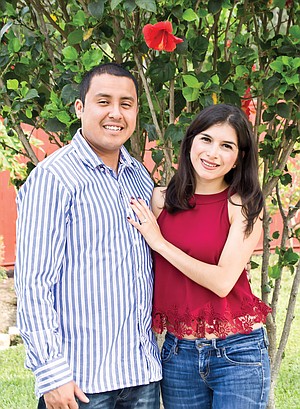 Rincon and Gomez
Cynthia Rincon and Sky Gomez will exchange wedding vows Dec. 9 at San Juan Diego Church in McAllen, Texas. A reception will follow at Marbel Event Center, in Edinburg, Texas. The bride to be is the daughter of Eduardo Rincon and Aurora Arevalo of McAllen Texas. Sky is the son of John and Belinda Gomez of Grandview. Cynthia is a graduate of McAllen Memorial High School and Texas A&M University. She is a registered nurse at Doctor's Hospital at Renaissance in Edinburg. Sky is a graduate of Grandview High School and YVCC. He attended Washington State University and is employed at Clark Chevrolet in McAllen.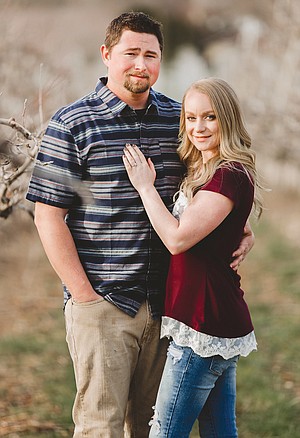 Morris and Dibbert
Bailey Morris and Jake Dibbert will exchange wedding vows Oct. 21 in the Cascade Gardens in Yakima. The bride-to-be is the daughter of Mike and Kim Taylor-Morris of Sunnyside. He is the son of Bruce and Therese Dibbert of Sunnyside and Tammy Still. Morris is a Sunnyside High School graduate and attended Columbia Basin College and Yakima Community College. She is a registered nurse at PMH Medical Center in Prosser. Dibbert is also a Sunnyside High School graduate and graduated from Perry Tech. He is a Local 598 Journeyman.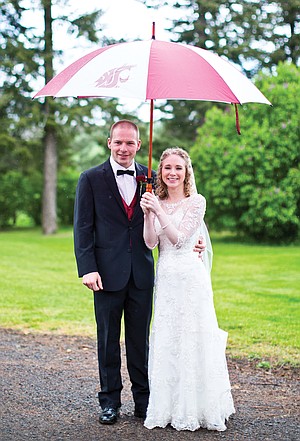 Gavin
Saint Boniface Catholic Church in Uniontown was the setting for the May 20 wedding of Kristen Wedam of Sunnyside and Kevin Gavin of North Bend. Father Jeff Core was celebrant. A reception followed at the SEL Event Center in Pullman. Matron of honor was Julie Wedam, sister of bride. Bridesmaids included Corrin Veiga, Sarah Giebel and Vickie McPartland-Herbol. Best man was Patrick Gavin (brother of the groom), Groomsmen were Ben Nantasai, Brandon Treichler and Eric Desmarais. Colors/Theme was Crimson and Gray (Go Cougs!) with black and white to represent the Holstein cows that brought the couple together. They met in Dairy Club. The bride's dress was from Fashion Corner and the floral arrangements were from Morris Floral. The wine was from Coyote Canyon Winery and McKinley Springs Winery, both in Prosser. The bride is the daughter of Mike and Sue Wedam of Sunnyside. The bridegroom is the son of Mark and Deborah Gavin of North Bend. Kevin currently attends veterinary school at Washington State University and will graduate in 2018. Kristen currently works for Washington State University and Pullman Regional Hospital. He graduated from Mount Si High School in 2011 and she graduated from Sunnyside High School in 2010. Both Kevin and Kristen earned Bachelor of Science degrees from Washington State University in 2015. The couple will move from Pullman to the Yakima Valley after Kevin graduates. The bride and groom are very thankful for those who celebrated with them — in person and in spirit — as they begin their new journey together.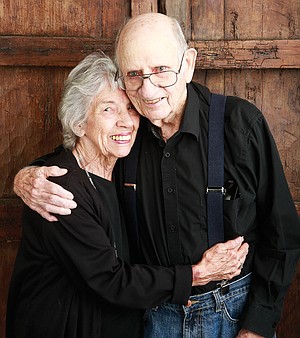 Ramsey
BERNALILLO, N.M. — Former Lower Yakima Valley residents Phyllis Burton of Sunnyside and Milton Ramsey of Grandview fell in love when they were both in high school in 1938. They dated for four years but were separated when Milton joined the U.S. Army Air Corps at the beginning of World War II. The couple decided to get married when Milton was home on leave in August 1942. They will celebrate their 75th wedding anniversary on Aug. 8, with family at a dinner hosted by their children in Bernalillo, NM. "They have lived many places, and had many adventures, but none as wonderful as being married to each other for 75 glorious years," said their daughter, Marikay Ramsey.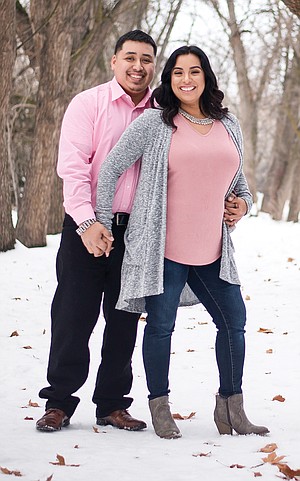 Frias and Cervantes
Grandview couple Vanessa Cervantes and Edwin Frias, have announced their plans to exchange wedding vows Sept. 16, 2017. The couple plan an afternoon wedding at Wine Country Gardens in Prosser. The bride-to-be is the daughter of Robert and Linda Marquez of Mabton, Vanessa is a graduate of Mabton High School, Yakima Valley Community College and Washington State University with a bachelor's degree in psychology and human development. She is employed as education program manager for Planned Parenthood of Greater Washington and North Idaho in Sunnyside. Frias' parents are Senorino and Maria Isabel Frias of Grandview. Edwin received his education in Grandview and is employed as a machine operator at FruitSmart in Grandview.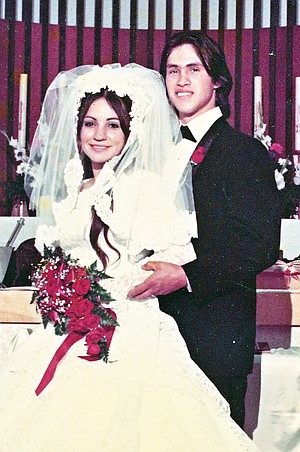 Arriaga
OUTLOOK — Jesse and Romana Arriaga will celebrate 45 years of marriage with a trip to Florida. The couple married July 1, 1972, at St. Joseph's Catholic Church in Sunnyside and are lifelong residents of the area. He is retired from the Yakima Valley Farmworkers Clinic and Romana is a retired Sunnyside School District food service worker. They have four children: Jesse, Jr., Maria Elena, Jose and Lupita. They also have seven grandchildren; Isabella Arriaga, Avery and Caleb Matheny, E.J. Gonzalez, Manuel Jr. and Mathew Saldana and Mozi Arriaga.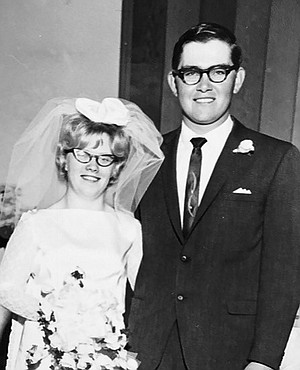 Kilian
SUNNYSIDE — Married on April 2, 1967, Sharon and Ervin Kilian will celebrate their 50th wedding anniversary at a gathering of family and friends Saturday at Calvary Lutheran Church, 11th and Harrison Avenue. Sharon and Ervin have four children, Carl Kilian, Missy Clymer, Colleen Goulet and Jenny Tobin; and 16 grandchildren. The couple have lived and farmed all their lives in the Sunnyside area. She also worked for Calvary Lutheran Pre-School for 20 years. Both have been very active in the organization of the annual Sunnyside Lighted Farm Implement Parade.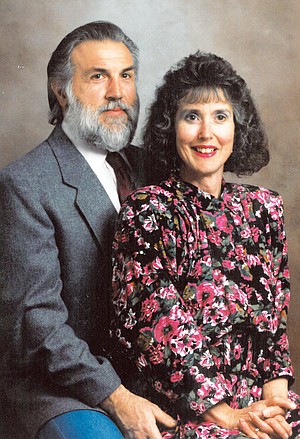 Moore
Longtime residents Ron and Sharon Moore of Outlook will mark their 50th wedding anniversary with family and friends from 1:30 to 3:30 p.m. Saturday at Just Like Home Resident Care, 906 North Ave. The couple was married in April, 1967 in Sacramento, Calif. They have lived in the area for 58 years. They have one daughter, Tamera Alderman of Pasco. They also have two grandchildren. He worked at Valley Auto Parts for 18 years and she was employed at Price Chopper for 23 years.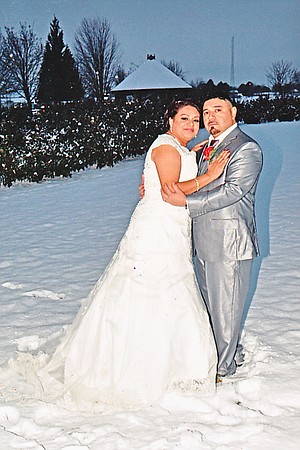 Rangel and Vargas
Some brides dream of perfect weather for their special day. She wanted snow for her wedding day and she got her wish. Lucilia (Lucy) Rangel and Hipolito (Paul) Vargas Jr. of Sunnyside exchanged wedding vows on Dec. 10 in the Blessed Sacrament Catholic Church chapel, while the world outside was covered in snow. "I wanted snow for our wedding pictures," the bride said. Following the 2 p.m. ceremony, the newlyweds paused for family photographs in the white covered landscape before joining family and friends for a reception at Navarro's Family Center in Sunnyside. Serving as her Friends of Honor were Christy Vargas and Jessica Tovar. Groomsmen included Agustin Villegas, Miguel Rangel, Antonio Rangel, Joel Martinez, Ismael Vargas, Alejandro Vargas, Miquel Angel Martinez and Adrian Vargas. Gabby Gomez and Nyeli Ramos were the flower girls. Also, attending the couple were their children Joshua Rangel, Irene Rangel, Mya Vargas and Enrique Rangel. She is the daughter of Amada and Miguel Rangel of Sunnyside and he is the son of Hipolito Vargas of Sunnyside and the late Juanita Sanchez of Grandview. The bride is employed by the Sunnyside School District and he is employed by Wyckoff Farms of Prosser. The couple is making Sunnyside their home.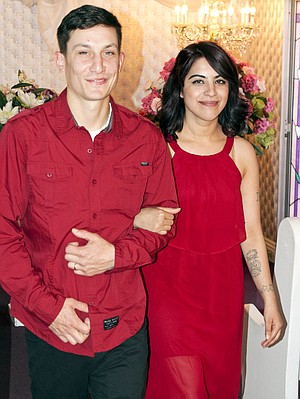 Mendez and Hernandez
MABTON — Marlene Hernandez of Mabton married Richard Mendez Nov. 1 in an afternoon ceremony in "A Little White Wedding Chapel" in Las Vegas, Nev. The newlyweds were accompanied by his parent s Jesse and Janice Alaniz, of Zillah. The bride, the daughter of Jose Abel and Rosa De La Cruz of Sunnyside, chose a burgundy red formal as her wedding dress. Following a reception at the Chapel, the couple is now making their home in Mabton. She is a Mabton High School graduate and is employed as sales representative for The Daily Sun. He is a Grandview High School graduate and is employed for Hogue Cellars in Prosser.

McCray
RICHLAND — On a steamy hot day, Aug. 21, 1966 Lynne Ann Schupbach wed J. Douglas McCray in New Martinsville, WV. An open house to celebrate 50 years of marriage and this accomplishment will be from 1-5 p.m. Oct. 29.. Those wishing to join in the celebration are asked to call 208-490-0207 for directions. The couple made its way west to Sunnyside with two boys in 1978. They were active members in the Sunnyside Presbyterian Church until they moved to West Richland in 2000. Their eldest son Jeff McCray and his wife, Julie, live in Burley, Idaho. Their youngest son, Jason Mcray and his wife, Susan, live in Orando with two granddaughters Claire and Valerie. The family requests "No gifts please, just come and share in the celebration."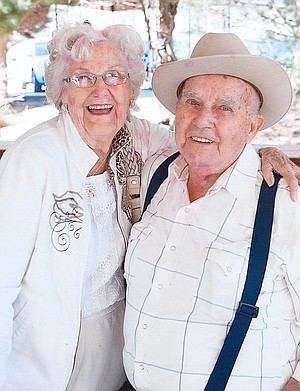 Prescott
SUNNYSIDE — They celebrated their 70th wedding anniversary and her 90th birthday on July 3 at Snipes Mountain Brewery and Restaurant. He will celebrate his 92nd birthday on Dec. 21. Ralph and Alice Prescott, were married July 5, 1946, in Polson, Mont. The couple has made Sunnyside their home for the majority of their married life. They lived in California from the 70s through the 80s, before returning to retire. He was a heavy equipment diesel mechanic and she retired as an insurance clerk at JCPenneys. They also owned and operated the Sunnyside Roller Skating Rink early in their married life. They continue to live in the home they built in 1954. The couple have two grandchildren, Keith and Kurtis Sparrow, and a number of great-grandchildren.