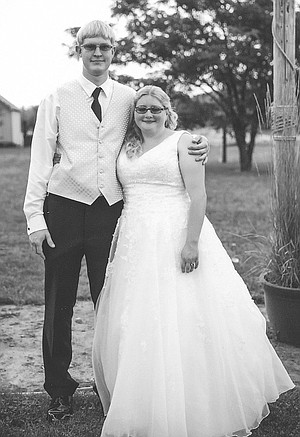 Ross and Woods
Christeen Woods and Grant Ross were united in marriage at Neighborhood Church Assemblies of God in Sunnyside on June 27, 2015. The bride is the daughter of Betty Woods, and the groom is the son of LeRoy and LaRae Ross, all of Sunnyside. The bride wore a white ball gown from David's Bridal. Her bridal bouquet was simple and elegant. Walking her down the aisle at the beginning of the wedding ceremony were the bride's brothers, Lance and Jordan Warner. Serving as maid of honor was Amber Coder of Sunnyside. Sadie Ross of Sunnyside was a bridal attendant. Reagan and Justin Ross of Sunnyside both served as the groom's best men. The bride was among the top 10 percent of her graduating class at Sunnyside High School. She was named to the Dean's List five semesters in a row at Heritage University. The groom is an electrician at Mid Valley Electric. A reception in honor of the newlyweds was held at Belma Square near Grandview. The couple spent their honeymoon in Leavenworth.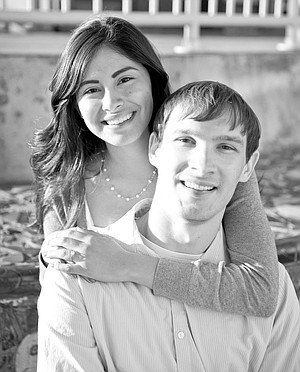 Wavrin and Hernandez
Sunnyside High graduates Nidia Hernandez and Daniel Wavrin will marry one another on Sept. 5, 2015 in Terrebonne, Ore. at Faith, Hope and Charity Vineyards Event Center. Hernandez, the daughter of Anselmo and Cristina Hernandez of Sunnyside, graduated from SHS in 2011. Wavrin graduated from SHS in 2010. He is the son of Dr. Bill and Laurie Wavrin of Mabton. The bride-elect is working toward a Bachelor's degree in business administration with a focus in marketing and a minor in anthropology. She is scheduled to graduate from college during the winter of 2016. Currently she is a public relations intern at SPIE, the international society for optics and photonics in Bellingham. Hernandez's grandparents are Ricardo and Linda Rodriguez, Anselmo Hernandez-Rivera and the late Martina Samano- Hernandez. The groom-to-be is the grandson of Donna and the late Eugene Wavrin, and Don and Mary Olson. He attended Cal Poly University in San Luis Obispo, Calif. before moving to Ferndale. After returning to Washington, he started a small artisan cheese farmstead with his father. Wavrin's best man at the Sept. 5 wedding will be his brother, Luke. Serving as maid of honor will be Hernandez's sister, Addy. The couple plan to make their home in Ferndale after exchanging wedding vows.