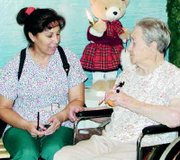 Residents of Hillcrest Manor nursing home in Sunnyside should have a very Merry Christmas.
Mary Arthur and her staff at Hillcrest have for the most part bucked the tradition at nursing homes to celebrate the holidays a few days earlier.
This year, residents at Hillcrest Manor will be hanging their stockings by the chimney with care waiting for Ol' St. Nick to arrive on the right day-Christmas.
"We couldn't think of why not to do it (celebrate Christmas at the nursing home on the right day)," said Hillcrest Manor Activities Director Laura Tollefson. "We work anyways."
Tollefson said the staff is also celebrating Christmas at the nursing home on the day it should be observed.
"Our way of thinking is, this is their home and we are their guests," said Tollefson.
Tollefson said the staff at Hillcrest wants the residents to fill like it is a special day.
"We want them to feel good," said Tollefson.
Besides setting a holiday mood at the nursing home, residents will be treated to a rousing game of bingo with an elaborate array of prizes. Tollefson said she has been collecting prizes in preparation for the Christmas Day bingo games.
"They (residents) want to win prizes," said Tollefson. "They want to be competitive on that day."
Activities will be taking place at Hillcrest Manor from 8 a.m. to 5 p.m. under the watchful eye of Tollefson, who will also be working New Year's Day.
"That is okay," said Tollefson about having to work on both holidays. "It will be a good day."
Tollefson said her husband is planning to do the cooking on Christmas and the couple with their two adult children, who also have to work on Christmas, will be eating holiday dinner that night.
Tollefson said she looks at having to work on Christmas as leaving one family, which is at the nursing home, to going home to her own family. Tollefson said she will be enjoying time with both families she treasures.
"They (the residents) are really excited," said Tollefson. "This is kind of like your family away from home. They know everything about you."
Martha Caballero, a Certified Nursing Assistant at Hillcrest Manor, will also be working during Christmas. Caballero said she doesn't mind working on the holidays, as she will make time to be with her family before and after work. Much like Tollefson, Caballero said the residents at Hillcrest are much like her own family.
The women at Hillcrest Manor will be treated to a special make-up and hair session to make themselves feel good during the holidays, while the men will do what they always do during the holidays, said Tollefson-eat.
"Men want food," said Tollefson. "That is how the men want to be pampered."
Besides bingo, residents will have the opportunity to play a variety of board games throughout the day.
For dinner, which will be served at 4 p.m., residents will be treated to a delicious serving of steaming ham, scalloped potatoes, green beans, rolls and pecan pie. Tollefson said dinner is being served at 4 p.m. so families can come and eat with residents.
"If you are not going to be here that day, you are going to miss a lot of excitement," said Tollefson.
On New Year's Day, residents will spend the morning making popcorn balls to sell the next day to staff members as a fund-raiser. Residents will also be treated to refreshments and time with one of their favorite comedians', Red Skelton, as several of his movies will be shown that afternoon.
. Mike Kantman can be contacted at (509) 837-4500, or email him at mkantman@eaglenewspapers.com
No. 1