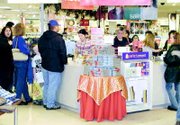 Last minute shoppers are starting to come out of the woodwork, according to Sunnyside merchants as the hours left for Christmas gift buying draws closer to an end.
While most stores were seeing numerous shoppers during the last three days, some haven't seen many at all this month.
But, that hasn't been the case at Sunnyside's Mid Valley Mall.
"We've seen a 7 percent gain in sales over December last year," said Jonica Bridges, manager of Sunnyside's JCPenney Store.
"Having an additional shopping day this month help our sales as well," Bridges said. She said she hired an extra four people who worked during the Christmas season.
"We always have a few extra college kids come home to work the holiday season, which is nice," Bridges said.
The Mid Valley Mall department store manager said the JCPenney store's December revenue gains include in-store sales, as well as Internet and catalog sales.
Mid Valley Mall shoppers were keeping other mall store clerks busy Tuesday afternoon as shoppers rushed around to make those last-minute gift purchases.
Shoppers at the popular teen clothing store, Gen X, kept three clerks busy ringing up holiday shoppers' clothing and novelty presents late Tuesday afternoon. But the last minute shopping rush may not be enough to make the 2003 season one of the store's best.
"We've been busy the last few days, but overall the month of December has not been what we had hoped it would be," said Store Manager David Kim.
"This month's sales have been about average," Kim said.
Last minute shopping for stocking stuffers seems to be the norm at Melange in the Sunnyside Mini Mall. "We're very busy selling just about everything in sight," said Judy Trull, a shop spokesperson.
But such is not the case across town. Audel Estrada's staff at Sunnyside's Audel's Fashion and Music on South Sixth Street is still waiting for his rush to begin.
"It's been slow all month," Estrada said. "I hope it picks up tomorrow (Wednesday)," he said.
Sunnyside Bi-Mart shoppers have been steady, but they haven't been purchasing many big ticket items, according to Michelle Stickley, store manager.
"We've had a lot of traffic, but no one seems to be buying big items," she said.
"There is a lot of milling around in the store," she said. "But I suspect we'll get a few more last minute shoppers before we close this evening (Wednesday)," she added.
Meanwhile, the Sunnyside Wal-Mart is doing big business in all types of merchandise, according to a store spokesman.
"It's been a very strong season," said Matt Duce, store manager.
"We have had good support from the community this season," he said.
Duce said the radio-controlled Hummer, electric scooters and the dancing Elmo are the only toy items which can be considered popular toys this year.
"Generally, there just hasn't been any one thing that stands out as a unique Christmas item," Duce said.
Procrastinating shoppers don't have much time to find the perfect gift. Most Sunnyside businesses will be closing early to give their employees part of Christmas Eve off. Even the community's largest store, the Wal-Mart Super Center, plans to close early.
"We're closing at 6 p.m. to give our associates time to spend with their families on Christmas.
"We will also be closed on Christmas Day," he said. "But we'll be open again at 6 a.m. on Friday," he added.
The Mid Valley Mall also plans to close early today (Wednesday).
"We're going to be open until 5 p.m.," said Barb Driesen, Mid Valley Mall promotions director.
"But if shoppers hurry there is still time to get good buys," she said.
. Julia Hart can be contacted at
(509) 837-4500, or you can e-mail her at jhart@eaglenewspapers.com