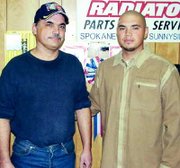 While Lower Valley families are preparing for Christmas morning celebrations, Sgt. Alex Navarro is already back on duty in Mosul, Iraq.
Navarro, a U.S. Army communications specialist, is one of the thousands of American men and women serving in the war zone and other outposts around the world. He is also one of several Lower Valley young people, who for a brief moment, came home on leave from the war front.
But Navarro, like many of the local young servicemen, says he is OK with heading back to the war front. He considers himself one of the lucky one.
"I got to be home to celebrate Christmas with my family, even if it was two weeks early," he said.
He, along with his wife Elizabeth, just completed a two- week leave, coming home for the first time in years to spent Christmas with his parents, Mr. and Mrs. Alex Navarro of Sunnyside.
The Navarros' also have another son serving in the military this holiday. Their son Rick is a tank commander at Fort Stewart in Georgia and served along side his brother in Kuwait during the earlier stages of the Iraqi War.
While on leave, the young soldier visited his family and cousins, and took out time to talk about his job with area school students.
"I spoke to students in Grandview and Sunnyside classrooms telling them that part of my job in Iraq is to help rebuild the country," he said.
Navarro, who just celebrated his 31st birthday, said he also stressed the importance of education to the students.
"One of the things we're rebuilding in Iraq is the schools," he said.
Navarro, who one day hopes to become a teacher, said for the time being he is committed to serving his country as a solider.
"We have a lot of hard work ahead of us in Iraq, especially now that we captured Saddam Hussein," he said.
Navarro, who enlisted following high school graduation, is attached to the 101st Airborne 2nd Infantry currently stationed near Mosul, Iraq. Navarro said Mosul is located about a six hours drive north of Baghdad.
As the communications specialist for his unit, he is in charge of eight servicemen who handle the group's communications, from military movements to wireless services used by the soldiers to keep them in touch with their families.
Navarro is just one of several Lower Valley natives who returned home for a short break from their military duties.
Much to her joy and that of her family, Sunnyside's Marty Clemmens' son-in-law, Geoff Black, was home on leave earlier this month.
"We felt very fortunate that he got to come home even for just a few weeks," she said.
While home, Black was invited to participate in the SunnyView VFW Post's Pearl Harbor Day Remembrance program held Dec. 7, in downtown Sunnyside.
"It was a real honor to visit with the veterans of other wars," he said. Black said he also felt honored to have met Pearl Harbor survivor Herb Fairbanks of Granger.
Black, who is attached to the Army's 125th Forward Support Battalion, is now back on duty in Baghdad.
Sunnyside's Rick and Mary Melendrez are excited to have their soldier sons home for the holidays.
Sgt. Angel Melendrez, who is scheduled to arrive home on Christmas Eve, will leave for active duty as a tank engineer with the 81st Brigade on Dec. 27.
Son Chris, a first lieutenant with the 1/5 Cavalry at Fort Hood, Texas, will be home until Dec. 29, before reporting back for overseas duty, said his mother.
"I'm so happy to have them home for Christmas," she said. "I'm making sure we all have a family photo taken as a part of our celebration," she added.
She said the Melendrez brothers will both be overseas by February, after undergoing training at Fort Lewis during the next month.
Also home for the Christmas holiday is Second Lieutenant Crysti Greenway, 30, of Granger. While she hasn't yet served in Iraq, Greenway said she is anxious to do her part.
"As an officer, I'm proud to be able serve with those men and women who volunteered to fight for our flag and country," she said.
Greenway, who just six months ago decided to re-enlist in the military, will be a member of the 18th Airborne, which has a major part of its troops stationed in Iraq.
She said there is a high probability she will eventually rotate in to Iraq. "I've requested that posting," said the Washington State University history major.
The daughter of Mary and Terry Pearson of Granger, she comes from a long line of military personnel. Her parents and her grandparents all served in the U.S. military. Her mother, Mary, served in the Persian Gulf.
Greenway first enlisted in the Navy following high school graduation. She worked her way up to Petty Officer Second Class after six years, before deciding to become a civilian again. But upon enrolling at Washington State University, she joined the ROTC. She also served for three years in the National Guard's 790th Chemical Company, stationed at Grandview.
"At the urging of 1st Sgt. Jack Emler, I decided to enlist in the Army," Greenway said.
Greenway said she has more training to complete before she will be fully prepared to head overseas.
"I just finished my transportation corps officer basic at Fort Eustis, Virginia," she said. Greenway said the transportation corps is responsible for getting food and military supplies to the "war fighter."
At the end of her two-week leave, Greenway will be training at Fort Benning, Georgia in day and night jumping. Later, she will be stationed at Fort Bragg, N.C. with the 18th Airborne.
"I think it surprised my family when I decided to go back into the services," she said.
"But it's the best job in the world," she said.
In the meantime, a young Army recruit, Jeremy Snyder of Sunnyside, is preparing to leave for boot camp in South Carolina.
"I'm going to be training as a light wheel mechanic," said the young man, who is currently employed at Sunnyside's Bi-Mart store.
Snyder, 24, said he won't leave for boot camp until Jan 15.
"So I'll get to have Christmas with my family this year," he said.
Even though he knows there is a chance he may end up overseas serving with other army troops, he said he is not worried.
"At least I know what I signed up for and what I'm getting myself into," he said.
. Julia Hart can be contacted at
(509) 837-4500, or you can e-mail her at jhart@eaglenewspapers.com
Julia Hart/Daily Sun News
Sgt. Alex Navarro (R), pictured with his father, Sunnyside businessman Alex Navarro, recently completed two short weeks of leave before being sent back to Iraq. The young Army sergeant is stationed near Mosul, north of Baghdad, with the 101st Airborne.
Julia Hart/Daily Sun News
Pearl Harbor survivor Herb Fairbanks of Granger wishes Geoff Black well as the young soldier heads back to active duty with American troops stationed in Iraq.
Lt. Chris Melendrez
Sgt. Angel Melendrez