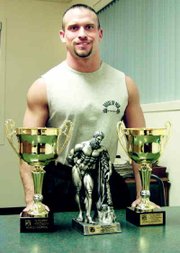 Outlook's Joe Luther once again made his mark on the weightlifting world on perhaps the brightest stage in the world-Las Vegas.
Luther was one of 722 lifters from 39 states and 13 different countries to take part in the Twinlab World Bench Press and Deadlift Championship. The world lifting meeting was held Dec. 9-14 at the Riviera Hotel in Las Vegas. The meet featured more than 80 hours of competition, which will be aired on ESPN in the near future.
"It was a pretty good meet," said Luther. "It was enormous."
Luther set a world record in the junior men (165 lbs.) division, bench pressing 458.3 lbs. on his third attempt, besting his previous world record mark by 1-1/2 lbs. Luther weighed in at 160 lbs. for the world meet.
Luther has come a long way from the first time he competed at the world event when he was 19 years old. Luther benched 419 lbs. his first time at the world meet.
"To be honest," said Luther. "I didn't think I was going to lift anything worthwhile this time."
The Outlook strongman qualified for the world competition during a meet held earlier this year in Portland, Ore. This year marks the first time in three years that Luther has competed at the world meet. This is the largest meet Luther has ever competed at. In the past, Luther said, he has competed at meets where lifters haven't been tested for steroids. Luther said he wanted to see how he fared at a meet against lifters that tested steroid and drug free.
"I wanted to see how I could compete," said Luther.
Compete is just what Luther did, even after struggling early on. Luther failed to make his first lift, nearly dropping 429-1/2 lbs.
"My form was off," said Luther. "My head wasn't into it."
Luther got back to form for his second lift, having an easy time with 451-3/4 lbs.
"I felt better with this lift," said Luther.
Luther then hit his world record making lift on his third attempt. Luther had set his previous world bench press record, one of many he has owned over the years, during a meet eight months ago in the Tri-Cities.
In the junior men's division, Luther was clearly the dominating lifter out of a field of eight participants. The lifter who took runner-up honors to Luther was a distant second, clearing only 348 lbs.
Luther's lifts were good enough to win the open men's division, as well. The competition was a bit stiffer in the open men's division. The second place lifter in the open men's division was from Norway. The Norway lifter cleared 436 lbs.
Luther said because of the number of lifters at the meet, it took a long time to finish the competition. Luther was one of the first participants to do his lifts, competing on Thursday of the world event. After competing on Thursday, Luther had to wait until Sunday to find out how he fared.
Luther's performance in Las Vegas was perhaps even more notable because of an injury he sustained two months before the world meet. While working out a couple of months before worlds, Luther pulled a pectoral muscle in his chest. While preparing for worlds, Luther said he was scared to lift heavy weights out of fear of further injuring his chest muscle and having to pull out of the Las Vegas meet.
Besides the size of the meet, Luther said he was surprised at the variety of competitors.
"Everybody seemed real nice," said Luther. "The guys are so huge. They are polite."
Luther was also amazed at the level of performance by some of the participants. In particular, Luther was impressed with Seattle Seahawks football team strength coach Bill Gillespie. Gillespie competed in two divisions and on his opening day missed all three of his lifts at 661 lbs. Gillespie came charging back his second day of competition and cleared 661, 668 and 706 lbs.
"I couldn't believe it," said Luther. "I had never seen anyone miss all of his lifts on the first day and come back like that."
Gillespie's mark was a world record in the 308-lb. weight class.
"He was pretty impressive," said Luther.
Competing at worlds like he did showed Luther a few things about himself. Luther said that many of the weightlifters live the profession too much. Luther said that many of the lifters own gyms or have jobs revolving around their career. Luther said he was glad to see he could compete with lifters who take the profession that seriously, since he is only able to dedicate a part of his time because of other commitments.
"It makes me feel good that I can do construction (for a living) and go to a world competition and actually place first in open men and junior men," said Luther.
Luther is awaiting his invitation to the Arnold Classic competition in March.
"That is supposed to be huge," said Luther.
The Arnold Classic is a massive body building meet that actor and current California Governor Arnold Schwarzenegger holds every year.
"It is supposed to be unreal," said Luther.
. Mike Kantman can be contacted at (509) 837-4500, or email him at mkantman@eaglenewspapers.com