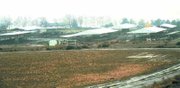 MABTON - World-wide reports yesterday afternoon that a suspected case of mad cow disease tracked down to a single Holstein, which at one time was part of the stock at a Mabton farm, has left many Lower Yakima Valley residents scratching their heads, wondering what effect the news will have on their lives.
If initial reactions to the potentially devastating news are an accurate indication, the American cattle industry could be in for some very tough times. Just a few hours after U.S. Secretary of Agriculture Ann M. Veneman confirmed that a suspected case of mad cow disease had originated at a Mabton farm, news filtered across the American airwaves that several nations had already banned imports of cattle from the United States.
The farm in question had not been positively identified, but during a briefing held early this morning by Veneman, she said the cow came from a large dairy operation in Mabton. She went on to say that the dairy houses 4,000 head of cows and is sited on two different premises.
In a late development this morning, Jay Gordon, executive director of the Washington State Dairy Federation, confirmed for Daily Sun News Reporter Michael Kantman that the dairy in question belongs to Bill Wavrin. It is located on Boundary Road just outside Mabton.
Gordon said the Wavrin family is working with the USDA and the Food and Drug Administration on beginning the long process of tracing back the origin of the infected animal.
"They (have) started the long process of tracing back where the animal came from," said Gordon.
Some news crews, apparently, erroneously reported this morning that the dairy in question belongs to Sid and Tami Leyendekker. Numerous news media vans were lined up at the Leyendekker farm early this morning seeking confirmation. But, the couple denied the dairy in question was their's.
"No one from the USDA has contacted us," she said.
"I've got every news crew you can think of camped out in our driveway," Mrs. Leyendekker said. The extra traffic around the cows, she explained, concerns the family.
"When the cows get riled up they lose milk," she said.
With the influx of media attention, Mrs. Leyendekker said they have had to run people out of their front yard. A Yakima County Sheriff's deputy was helping the family keep media off their property.
Dr. Ron DeHaven, Deputy Administrator for Veterinary Services at the Animal Plant Health Inspection Service and the USDA's chief veterinarian, said at this time there has been no determination as to what will happen with the rest of the herd, which is currently under quarantine. Veneman said the animal in question was brought into the herd in October 2001, and was culled from the Mabton herd due to complications after calving. DeHaven went on to explain this morning that the cow was purchased by the Mabton dairy as a 2-year-old, and was on her third calf when it was culled from the herd.
DeHaven said since bovine spongiform encephalopathy (BSE), more commonly known as mad cow disease, has an incubation period of four or five years, the USDA and its team of state and federal investigators are working together to find all of the premises the animal lived on from birth to slaughter.
He noted the feed investigation will focus on the feeding processes of the herd the animal was born into. DeHaven figured it would take a day or two to trace the animal back to its birth herd.
Veneman, speaking at a press conference last night, reiterated to the American public there is no significant risk to the food chain, or to their personal safety.
"Despite this finding, we remain confident in the safety of our beef supply," said Veneman. "The risk to human health from BSE is extremely low."
Veneman went on to explain that the animal in question was non-ambulatory, known in the cattle business as a "downer." She said the Holstein was slaughtered and the muscle cuts of the animal were sent to Midway Meats in Washington state for processing. The potentially infected parts of the cow, the brain and spinal cord areas, were sent to a rendering plant.
She said samples were taken during the slaughter, on Dec. 9, as part of the USDA's targeted BSE surveillance system. Those samples were then sent to the USDA's National Veterinary Services Laboratory in Iowa. Positive results were obtained by both histology, a visual examination of brain tissue via microscope, and by immunohistochemistry, the gold standard for BSE testing that detects prions through a staining technique. Veneman said test results were returned Monday, Dec. 22, and retested the following day. She said the sample in question has been sent by military aircraft to the world reference laboratory in England for final confirmation, and expects the results back in three to five days' time.
She said the USDA will be working with the Food and Drug Administration as it conducts animal feed investigations-the primary pathway for the spread of BSE.
Veneman also told reporters that the chances of the Mabton incident being related to the recent mad cow disease incident in Alberta, Canada is doubtful. She said the two incidents involved different kinds of animals. Veneman said it is too early at this point to be able to say whether or not the incident in Mabton is an isolated case of BSE, or if the disease is more widespread.
The one Alberta, Canada cow that was diagnosed with BSE this year led to all major importers, including the U.S., closing their borders to Canadian beef. It is estimated that it has already cost Canadian beef exporters nearly $2 billion. And, economic ripples continue to be felt across rural Canada. One bankruptcy trustee in Alberta reports his files have swelled 30 percent since May of this year.
One of the first impacts that local beef consumers are bound to feel is this morning's announcement by Vern's Moses Lake Meats of Moses Lake, that it is voluntarily recalling in excess of 10,410 pounds of raw beef that may have been exposed to the BSE on Dec. 9. USDA officials say the meat was shipped to several establishments, and is subject to an FSIS Class II recall classification. That classification is for incidents where there is a remote probability of adverse health consequences to humans. The designation also means there is a low likelihood that the beef being recalled contains mad cow disease tissue.
BSE, or mad cow disease, is a progressive neurological disease in cattle. BSE is in a family of diseases known as transmissible spongiform encephalopathies. In that family of diseases is the human variant, Creutzfeldt-Jakob disease, which is believed to be caused by eating neutral tissue, such as brain and spinal cord, from BSE-affected cattle. The vast majority of Creutzfeldt-Jakob patients usually die within one year of the onset of illness. In about 85 percent of patients, Creutzfeldt-Jakob occurs as a sporadic disease with no recognizable pattern of transmission.
Dr. Scott Abbott of Dairy Vet Management in Sunnyside said his belief is that this incident is going to be an isolated case, "...just like the one in Canada."
Abbott said the belief by those in the industry is that the only way for cows to get BSE is through the ingestion of meat and bone meal made from the brains and spinal cords of infected cows.
"It's not in the muscle tissue, which are the steaks, or in the milk," Abbott said.
In the past, meat and bone meal was fed to cattle for protein and calcium. That type of meal has been banned in the U.S. since 1997, said Abbott.
Primarily a dairy veterinarian, Abbott said the local dairymen have worked hard to provide as clean and a healthy product as possible.
"This is just gut wrenching," he said.
Patti Brumbach, executive director of the Washington State Beef Commission, believes there will be some kind of financial impact felt by yesterday's news.
"I certainly think we will see short term economic repercussions in the industry," said Brumbach. "But once consumers understand that BSE is not found in the meat, it will come back."
In assessing what happened in Alberta, Canada earlier this year, Brumbach said, "Their beef industry was devastated up there.
"But they exported most of their beef. In the U.S., we consume 90 percent of our beef. Only 10 percent is exported," she said.
Brumbach said currently, there are 1.1 million cows being raised in Washington state. A 2001 Yakima County Development Association report lists cattle farming as the top industry in the county, with more than 300,000 head of cattle being raised in the county.
U.S. Sen. Patty Murray (D-Wa.) echoed the comments of many government officials, citing the safety of Americans.
"My number one priority continues to be the safety of our residents," said Murray. "I will continue to do all that I can to ensure the security of our food supply."
. Bob Story,can be contacted at
(509) 837-4500, or e-mail him at bstory@eaglenewspapers.com