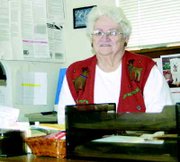 There has never been a dull moment. Those are some of the words one might hear when they sit down and talk with Frances "Joyce" Wigley.
Wigley has been the only apartment manager in the history of the Sunnyside Manor Apartments on Fourth Street in Sunnyside.
The feisty 75-year-old has managed the 24-apartment facility since it was built in 1985.
"I have enjoyed it all," said Wigley. "It has been very rewarding."
Wigley oversees the daily operations of the complex, which is a set of one-bedroom apartments, which caters to senior citizen (62 years of age or older) and handicap residents.
But Wigley is now preparing to take on a new job. Wigley is preparing to take a little bit of time for herself.
Wigley's last day on the job at Sunnyside Manor will be at the end of the year, although she will still be around to collect rent from residents at the beginning of the new year. She said she will also help break-in the new manager for the facility.
At the beginning of the year, Wigley will be moving into the Grandview Square Apartments.
"I am going to be a resident for a change," said Wigley. "It is a small, one-bedroom apartment. It is all I need."
After the winter season, Wigley is planning to hit the road with her daughter-in-law, Terri Anne, who lives in the Tri-Cities.
"I don't know where we are going. We are just going," said Wigley. "There is no destination."
Wigley is also looking forward to moving to Grandview because she will be able to be more involved with her church, which is the Grandview Church of the Nazarene.
Managing apartments is nothing new to Wigley. Originally from the New York/Pennsylvania area, Wigley moved to Sunnyside from California, where she managed apartments from 1974-85. Wigley fondly recounted how she was able to stand with the other residents on the roof at her apartment building and watch unobstructed the annual Rose Bowl Parade.
In 1985, Wigley's daughter managed to talk her mom and dad, Wesley, into moving to the Lower Valley.
"She wanted her mother to be closer to her," said Wigley.
Wigley and her husband lived with her daughter for two months.
"This job came up, so I just took it," said Wigley. "I had done this work in California. We knew this was going to be built soon, so we just kind of bided our time."
Up until eight years ago, Wigley and her husband managed the Sunnyside Manor apartments together. After his death, Wigley hired out services for maintenance at the housing complex while she continued to do the paperwork side of the business.
"It was good," said Wigley of managing the apartments with her husband. "We had a very good relationship. I wish everyone could have a life like I had. It has been a really good time."
Wigley said one of the reasons why she stayed at her job so long is the residents.
"I have really liked it here," said Wigley. "I enjoy the people. It is more like a big family here than a tenant-manager relationship."
Wigley said she will miss the residents at Sunnyside Manor the most, but she is optimistic about her future.
"I really don't know what is going to happen," said Wigley. "I just hope for the best."
About six months ago, Wigley realized that she wanted to do something else with her life. Wigley said her two sons also pressured her to give something else a try.
"They keep after me. They said it is time for you to do something for yourself," smiled Wigley.
Wigley said she has never regretted staying at her job for the past 18 years at Sunnyside Manor.
"My time here has been happy and sad," said Wigley, "but all together it has been a very enjoyable time. My husband and I enjoyed it. We loved the people."
. Mike Kantman can be contacted at (509) 837-4500, or email him at mkantman@eaglenewspapers.com