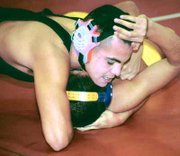 GRANGER - Sunnyside High School's junior varsity wrestling team made a rather solid showing for itself at the Granger "Iron Man" wrestling tournament this past Saturday.
Out of 10 schools, Sunnyside's JV placed fourth with 87-1/2 points. The tournament was filled with a mixture of varsity 1A and JV wrestlers from around the area.
White Swan won the Iron Man tournament with 129 points. Wahluke was second with 118 points. Host Granger took third place honors with 109-1/2 points. Highland had 74-1/2 points to round out the top five.
Placing fifth through 10th were Columbia-Burbank, Goldendale, Eisenhower's junior varsity, Zillah's junior varsity and Kennewick's junior varsity, which had 12 points.
The Grizzlies didn't have a wrestler at 189 lbs.
Sunnyside's lone tournament champion was Victor Moreno, Moreno went 3-0 on the day, taking first place with his 9-7 victory over Eisenhower junior varsity wrestler Benji Martin.
Because there weren't enough wrestlers at the lower weights, tournament organizers combined the 103 and 112 lb. weight classes. Sunnyside's Jesus Alquicira (2-1) placed second, dropping an 8-2 decision to Granger's Nestor Quezada in the finals.
Michael Graham also took second place for the Grizzlies, finishing 2-1 on the day at 152 lbs. Graham was pinned by Lupe Isaacs of White Swan in 1:12 in the finals.
The Grizzlies fielded two wrestlers at 145 lbs. Sunnyside's Humberto Martinez took the consolation championship, going 3-1. Martinez defeated Highland's Miguel Estrada 14-13 in the consolation finals for third. Ulysses Olivarez was the other wrestler for Sunnyside at 145 lbs., going 1-2 on the day.
Sunnyside's Casey Smith was the Grizzlies' other consolation champion. Smith (3-1) won a 4-2 decision over Kennewick junior varsity wrestler David Rangel in the consolation finals to place third.
At 135 lbs., Sunnyside's Seferino Amaro went 2-2 to place fourth. Amaro lost to Highland's Zach Bogle by pin in the third round.
Grizzly heavyweight Angelo Salazar placed fourth, going 2-2. Salazar lost by pin to White Swan's Joseph Ramos in 3:45.
Jordan Bellamy went 1-2 for Sunnyside at 140 lbs. At 160 lbs., Jerry Alvarez was 0-2 for the Grizzlies.
This Saturday beginning at 9 a.m. Sunnyside's junior varsity squad will be hosting a 15-school JV tournament.