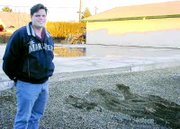 In six months time the management of Sunnyside's TV Towne is hoping to unveil an entirely new look for the store.
The first phase of a three-phase remodeling project was started Nov. 11, when a building permit was issued by the City of Sunnyside. The permit allows for the creation of a new foundation for the expansion that is planned at the 1508 Yakima Valley Hwy. site.
TV Towne Manager Bill Blondin said in January work should begin on phase two of the project, which will include expanding the building to encompass the 3,600-square-foot cement foundation.
Blondin said the additional square footage will eventually give the Sunnyside location a new loading dock, as well as some much needed storage. He said the expansion will also include more floor space for displaying the televisions, appliances and furniture the store currently carries.
"We'll have more of what we offer," Blondin said.
He explained that with the building the way it is now, when a large delivery is made or someone comes in to pick up a larger piece of furniture it has to go through the front door. The new loading dock will eliminate that challenge.
However, the expansion on the west side of the existing building, which will bring the total square footage of the store to approximately 9,000 square feet, is only the second phase of the project. Blondin explained the third phase of the remodeling project will consist of a facelift to the existing portion of the building.
Blondin said windows will be added to the side of the building facing the highway, as well as the area around the front doors. He said the front doors will also be moved to a position, just a few feet further towards the front of the building. Along with the additional windows, awnings will be installed and landscaping is planned.
Blondin said remodeling the building, which has been occupied by TV Towne for more than 10 years, is something management has been considering for some time.
"We're growing," Blondin said. "We needed more floor space."
According to Blondin, work on the building should be complete by the middle of 2004.
The building permit issued for the first phase of the TV Towne remodeling project is one of 54 permits issued by the City of Sunnyside in November. All told, the total valuation of the 54 projects is $460,903. The Sunnyside building division also conducted 214 inspections during the month of November.
. Elena Olmstead can be contacted at (509) 837-4500, or e-mail her at eolmstead@eaglenewspapers.com
Elena Olmstead/Daily Sun News
TV Towne Manager Bill Blondin stands in front of the first phase a remodeling project that is scheduled to be completed by the middle of 2004. The project will include an addition of 3,600 square feet to the existing building, which has been occupied by the business for more than 10 years.