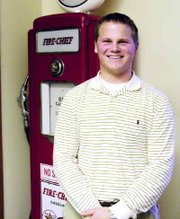 GRANDVIEW - For Justin Christensen, going to work every day is a dream come true. As the marketing specialist for R.E. Powell Distributing Co., Christensen gets to work on a daily basis with his brothers Tony and Brandon, as well as his parents.
"It's the best part of my day, coming to work," he said.
The Grandview High graduate didn't see himself returning to Grandview as he finished his courses in high school.
"I didn't expect to come back," he said, but he added, "I've always envisioned myself in the corporate life."
He moved back to the Lower Valley last August when a business opportunity to purchase a laundry mat and car wash on West Main Street opened up. With the purchase of the car wash and laundry he and his wife moved to Grandview.
"My wife got a job teaching at Grandview High School, which played a big part in us living in town," said Christensen.
"I thought it would be neat to come back home," he added.
Christensen said after returning home and looking around he saw very few people he went to high school with still in the community.
"There's not much for young people to do," he said.
Christensen has decided he wants to make a difference in his community and provide opportunities, especially for his children and their friends.
He has started by working with the DECCA Club at Grandview High School, where he serves on the Vocational Department Advisory Board. He is also active in his church, where he teaches 14 to 16-year-old youths.
Christensen is also considering other ways to become involved in the community.
It was when he returned to Grandview to purchase the laundry mat and car wash that he started with R.E. Powell.
"I'm in charge of the marketing our seven convenience stores and the different departments within our company," said Christensen.
R.E. Powell has stores in Sunnyside, Mabton, the Tri-Cities, Hermiston, Touchet and Ione.
One of his projects that will soon be implanted is "Fuel For Schools," a program that will donate a percentage of sales to local schools.
"One of the challenges has been why women, in general don't like going into convenience stores," said Christensen.
He said R.E. Powell has been working on changing the perception of convenience stores in order to attract a new demographic.
Although he spends much of his time at R.E. Powell, Christensen has enjoyed restoring the laundry mat and car wash to like-new condition.
"For so long it was run down and nothing would work," he said.
Patrons of the laundry mat have been appreciative of the changes so far, said Christensen.
"We went through and replaced everything. We're trying to make it a first-class establishment," he said.
. Melissa Browning can be contacted at (509) 837-4500, or e-mail mbrowning@eaglenewspapers.com
Melissa Browning/Daily Sun News
Marketing specialist Justin Christensen enjoys every day of his work at R.E. Powell Distributing Co., where he is able to work closely with family members. Since returning to Grandview last summer, Christensen has looked for ways to be involved in the community.