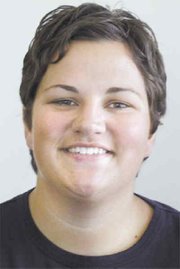 When Sunnyside High School teacher Marah Traub first took her position in the fall of 2001 she had no idea that just two years later she would be honored by the Sunnyside School Board.
Dec. 18, Traub was recognized by the board for being the first teacher in the school district to receive her professional teaching certificate, which is part of a new certification system that went into effect in September 2000.
According to information from the Office of the Superintendent of Public Instruction, the new program divides teaching certificates into two catergories, residency and professional. The residency certificate is valid for the first five years in a teacher's career, with the teacher being expected to progress to the professional certificate during those five years.
Traub said she started working toward her professional certificate only a year and a half after beginning her teaching career. She said the catalyst for her decision was that at the time Heritage College in Toppenish was offering a 40 percent tuition break for teachers looking to take part in the college's first professional certification group.
Traub, who graduated from Bethel College in Mishawaka, Ind., said she knew earning her professional certificate was something that was required within the first five years of her career, and that the tuition break helped her make the decision to move forward with it.
"I figured I was going to have to get it anyway," Traub said.
Overall, working toward her professional certificate took Traub a year and half. She said looking back, the process was a little difficult at times because much of what was required including taking a look at what was happening in the classroom. Traub said still being a newer teacher meant that sometimes she didn't have that experience to fall back on. However, she said she gained that insight through the help of her team members, who had been teaching longer than she had.
Traub explained the process of earning her professional certificate didn't include a lot of actual classtime at Heritage. Instead, Traub said, during the first semester she studied 17 criteria compiled by the state. The critieria fall under three standards, including effective teaching, professional development and leadership. The second semester, Traub said she took what she learned and applied it to her classroom, and the final semester she worked on putting together a portfolio and presenting it for her certification.
Traub said overall the experience was interesting because she found a lot of the things the state had set up as criteria were things she was already doing in the classroom.
"And, as a new teacher there were a lot a lot of things I wasn't doing that would have made my job easier," Traub said.
She said it feels good to have her professional certifcate taken care of early on in her career. However, looking back, she said working toward her certifcate while still keeping on top of her regular teaching duties was tough at times.
"It's a lot," Traub said.
. Elena Olmstead can be contacted at (509) 837-4500, or e-mail her at eolmstead@eaglenewspapers.com