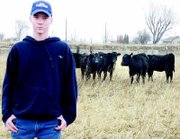 Fourteen-year-old Outlook resident Wayne Mandrell just recently used the money he had been saving from livestock sales through FFA and 4-H to start building his own herd.
Mandrell said one day he hopes to turn the four head of registered Angus heifers he purchased three months ago into a herd of up to 60 cattle.
Mandrell, who grew up in the cattle industry, said the animals are currently housed on five acres of pasture located behind the Lester Road home he shares with his parents, Bill and Gloria.
As if purchasing and caring for his own animals isn't enough responsibility for the 14-year-old Sunnyside High School student, Mandrell also recently became a junior member of the American Angus Association.
Mandrell said he decided to become a member after the person who sold him the registered heifers talked to him about the advantages of being associated with the national organization.
"[He] said it would help me some day," Mandrell said.
Mandrell and his father, Bill, explained that being a member of the American Angus Association will give the younger Mandrell access to a higher caliber of breeding services, which will help produce higher quality offspring and therefore a higher market price.
Mandrell's parents, Bill and Gloria, both agree their son has always shown an interest in being involved in the cattle industry. Over the years the Mandrells had a herd of 50 to 60 head of cattle their children helped them care for.
"Wayne always planned on being a cattleman," Gloria said of her son, who is the youngest of four children. "He always had the interest and the eye for it."
Mandrell is also a six-year member of 4-H and is in his first year as an FFA member. Mandrell credited the two groups for helping him choose the four heifers he did.
Mandrell said he plans on breeding his animals in April 2004 and hopes to be able to sell his own heifers in five or six years.
Also joining the American Angus Association are Mark and Renee Nelson of Grandview. The couple just recently became members of the organization.
The American Angus Association, with more than 34,000 active adult and junior members, is the largest beef cattle registry association in the world. Its computerized records include detailed information on more than 14 million registered Angus.
. Elena Olmstead can be contacted at (509) 837-4500, or e-mail her at eolmstead@eaglenewspapers.com