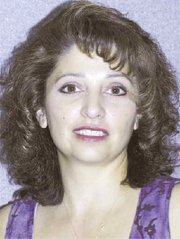 To some, Sunnyside City Council member Bengie Aguilar might be viewed as an engineer.
"This whole thing I'm involved with, it's about building bridges," Aguilar said. "I'm just trying to connect people with the resources that are available."
Aguilar, a first term councilwoman, has taken a bit of heat lately for her efforts to help the Hispanic-speaking merchants in town prosper and grow. She's been accused, publicly, of polarizing the community, after organizing two meetings where numerous Spanish-speaking businessmen were in attendance and talks of forming an Hispanic Chamber of Commerce ensued.
In her own words, Aguilar said the perception that she is the driving force behind organizing an Hispanic chamber are not true. But, she quickly adds, she is not against such a development, either, if it will help economic development in Sunnyside.
Soft spoken, yet with a passionate fire in her heart for helping those whom she perceives as being overlooked, Aguilar said the biggest problem that needs to be addressed is the language barrier.
"Too many of our business people here in town are not making important connections, simply because they don't understand the English language," she said. "There truly is a language barrier.
"A good example of this happened at one of the meetings," said Aguilar. She reflected on the second meeting, where one man addressed a question to a Sunnyside chamber official.
"He asked me in Spanish to ask (the Sunnyside chamber official) that if he became a chamber member and needed some advice or help from the chamber, if there was someone who could help him at the (Sunnyside) chamber," Aguilar said. "The answer that came was very sincere," Aguilar continued, saying the chamber official related that she was currently learning Spanish. The man who had the question, said Aguilar, replied that he, too, was learning English. But, said Aguilar, the man said currently he needs things explained to him in Spanish, so he can better understand.
"My original intent in all this was to get these people together, talking with one another, to come up with a way for them to communicate with one another...as a group," Aguilar said. "Forming an Hispanic Chamber of Commerce is something that came out of these two meetings.
"It is important to me that these business men and women clearly understand what resources are available to them and how they can access them to help their business grow and prosper," she said.
"If an Hispanic chamber is something that is needed to get these business people more involved, to make resources available to them, to get more activities planned for the community, then maybe that's what's needed.
"If this can happen through the local chamber of commerce, that of course would be ideal and preferred not only by me, but based on the outcome of the meeting, by most of the business owners, themselves.
"I'm all for helping people help themselves," said Aguilar.
"What I'm concerned with is eliminating the language barrier and providing access to resources for all of our business people, and getting everyone involved with making Sunnyside prosper.
"This is what I want to help create," Aguilar says, almost pleadingly.
Aguilar acknowledges that the local Chamber of Commerce has stepped to the plate in trying to accomodate the Spanish-speaking merchants in Sunnyside. She cites the local chamber's readiness to form a special committee that would help bridge the communication gap between the Hispanic-speaking businessmen in town and with those who converse in English.
She said she was glad to hear that the local chamber would be translating its general brochure and getting it out to the businesses.
But some wonder if the local Chamber of Commerce's efforts, considered by some as last minute, are enough to unite all Sunnyside merchants under one umbrella.
If not, and the Spanish-speaking business people of the community opt to form their own chamber, Aguilar said that decision shouldn't be viewed negatively.
"If an Hispanic chamber is started here in Sunnyside, hopefully, it will be run in collaboration with the local chamber, as it is happening in other communities, like the Tri-Cities," said Aguilar.
"After all, the goal of both groups would be to promote economic development."
Aguilar said after just two meetings held by local Hispanic merchants, she can already see a difference.
"I can see it for myself that these merchants are now talking with each other more, more than they ever used to. Already, that involvement is starting to happen. It's going to help Sunnyside grow," said Aguilar.
She said one example of what having better communication between all merchants in town might accomplish is the recent turnout for a performance by three Mexican recording artists.
"Here, we had three major Mexican artists performing in Sunnyside...three very big names, and I for one didn't even know they were going to be here. One of them, I've been dying to see for years and years, and I didn't even know he was performing in my back yard.
"If there had been a networking of communication to get the word out, the event could have been an even bigger success and directly benefitted the business community of Sunnyside.
"One of the things I'd like to see happen is at least one big event like this at Centennial Square, at least once a month during the summer months," said Aguilar. "If we can get everyone involved in promoting these kinds of activities, there's no reason it can't happen.
"To make it happen, everyone has to be involved, but you can't be involved unless you can communicate with one another. We have a group of business people here in town who presently are not able to communicate with our local chamber. They want to be involved, they want to have input in helping make plans for Sunnyside to grow," said Aguilar.
As far as the criticism she's received for over-stepping her boundaries as a city council member, in terms of trying to unite the Hispanic-speaking merchants in town, Aguilar said she would be unable to the job she was elected to do without meeting with her constituents.
"I am not one to just go to city council meetings and make decisions. I also want to talk with the grassroots people in town," said Aguilar. "Very few of the people come to city council meetings unless of course they have an issue to discuss, so it's important to go to them."
Aguilar said it is not her intention to be divisive, to separate Sunnyside's business community into English-speaking and Hispanic-speaking segments.
"It's about bringing people together regardless of the language barrier, and building the bridges necessary to make that happen," she said. "The more resources we can open up to people, the more Sunnyside will benefit.
"It's about everyone communicating and being able to communicate, and anyone is welcome to be a part of it...even the city council.
"We all need to work together, to include everyone," said Aguilar. "These types of efforts and awareness can only benefit the future of Sunnyside."
. Bob Story,can be contacted at
(509) 837-4500, or e-mail him
at bstory@eaglenewspapers.com