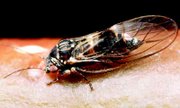 Crop consultants are urging pear growers to get an early jump on pear psylla this year. The typical approach to controlling these yield and quality robbing pests involves three steps, and precise timing.
"Pear psylla is our number one problem, or at least it would be if we didn't take a proactive approach against it," said Kenton Carson, a field consultant for Wilbur Ellis.
The control regimen includes careful orchard monitoring and three to four insecticide sprays. According to Dr. John Dunley, associate professor of entomology at Washington State University, the time and money spent to control pear psylla is well worth it. He explained that a box of pears that's downgraded because of pear psylla damage can be worth nearly 45 percent less than a box of grade US #1 pears.
Pear psylla lowers the quality of the fruit indirectly, feeding on pear tree leaves for nutrients, then excreting honeydew onto the fruit. The honeydew creates an ideal environment for another pest, black sooty mold, which leads to russets or patches of discoloration on a pear's skin. If russets exceed 5 percent of the fruits' surface, or if any one spot is larger than a quarter, the fruit is downgraded.
"By feeding on the leaves, they can cause them to dry up and fall off, lowering yield in subsequent years," Dunley said of pear psylla. "And in extreme cases, [it] can actually kill trees."
Pear psylla is an issue that requires a comprehensive and multi-step treatment. It is host-specific, meaning in this case they reproduce only on pear trees. Therefore, pear orchards must be sprayed early to prevent egg laying, with orchards often times needing to be sprayed several times. According to Dunley, Kaolin products are popular for this because they form a protective layer on the leaf so the female will not lay eggs.
However, this alone will not stop pear psylla completely because some eggs will still be laid and damage-causing nymphs will emerge. Dunley said to stop nymphs he often recommends a post-bloom spray of Actara(r) in late April to early May.
This foliar insecticide contains the active ingredient thiamethoxam. It's a second-generation neonicotinoid that controls nymphs by interfering with the insect's nervous system.
The last step to controlling the pest is an insecticide spray targeted at the second or third generation of pear psylla. Pest control experts stress that insecticide rotation is necessary for resistance management. A product such as Agri-Mek(r), based on the active ingredient abamectin, is often used against second-generation pests.
"We have to deal with pear psylla every year," Carson said. "Losses would be significant if growers didn't treat for it."