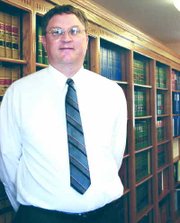 YAKIMA - Judges have been moving through the court system recently with Judge Michael Leavitt being appointed from Yakima County Superior Court to serve as a U.S. magistrate judge, then judge Ruth Reukauf was appointed from Yakima County District Court to fill Leavitt's position in superior court. And most recently, Yakima County has been on the lookout for an area attorney to fill Reukauf's vacant seat in district court.
Lisa Freund, Yakima County community relations manager, said Reukauf's seat as a Yakima County District Court judge has been open since she was appointed to superior court in January. However, it wasn't until Feb. 12 that the county began its search for someone to fill that position.
Freund explained that in order to find the best candidates Yakima County commissioners looked to the Yakima County Bar Association, asking them to evaluate each of the applicants. The evaluation used numerical scores to assess the 13 candidates in four areas, including integrity, judicial temperament, relevant legal experience and legal ability. Freund said the commissioners have since set up interviews with the top three candidates.
Freund said the procedure county commissioners went through to find the top three candidates is the same procedure Gov. Gary Locke used when trying to find someone to fill Leavitt's open seat in superior court.
According to Freund, the top three candidates who will interview for the district court position are attorneys Donald W. Engel of Rick Kimbrough Law Office in Grandview, Rob Lawrence-Berry of Finney, Falk and Lawrence-Berry of Yakima, and Susan Woodard, the presiding judge for the City of Yakima Municipal Court.
Court Consultant Harold Delia explained that the person chosen to fill the district court judge position will be responsible for holding court five days a week, dealing mostly with traffic infractions, domestic violence and anti-harassment cases.
"It's a pretty busy court," Delia said.
Local candidate Engel isn't a stranger to the hustle and bustle of district court, having served as court commissioner for one year and district court judge pro-tem for another year.
Engel, who has practiced law since November 1984, said he decided to apply for the position because he enjoyed the experience he had when he worked with the court from 1999 to 2001.
"I always kind of wanted to get back in it if I could," he said.
Freund said the three candidates are scheduled to be interviewed by the three county commissioners and Delia on April 12, with an appointment likely to be made during the April 20 meeting of the Yakima County commissioners.