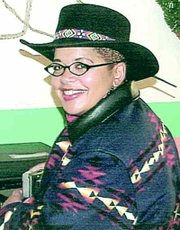 The definitions of Americans' cultural identity is the theme of "My Journey Home," an upcoming two-hour documentary, which features a segment about the life of writer Faith Adiele, formerly of Sunnyside.
Scenes from Sunnyside and conversations with Adiele's mother and childhood friends are included in the documentary, which also features journalist Andrew Lam and brothers Armando and Carlos Peña.
The PBS documentary, produced by WETA Washington, D.C., will air Wednesday, April 7, at 10 p.m. over Yakima's public television station, KYVE Channel 47, cable 8.
"My Journey Home," hosted by journalist Ray Suarez, follows Adiele, Lam and the Peña brothers as they travel to their hometowns, revealing their stories, which are at turns thought-provoking, humorous and emotionally devastating.
Adiele's mother, Holly Adiele, who still lives in Sunnyside, said her daughter is an award-winning writer, and is currently in the process of awaiting the release of her latest book while completing another.
The younger Adiele's portion of the documentary has her exploring topics such as identity, culture, travel and spirituality. Her body of published articles, stories and essays also reflect her pursuit of personal understanding, growth, healing and forgiveness, said her mother.
Adiele, who is now a professor of English and writing at the University of Pittsburgh, is one of four people featured in the program, whose families were somehow separated by migration or immigration, according to her mother, a retired Sunnyside School District teacher.
"One is a boy who fled Vietnam after the end of the war and returns to visit the relatives left behind, and the others are Mexican-Americans born in Texas who retrace the places all across the West where they lived as migrant workers and where their relatives settled," said Holly Adiele.
"Coincidentally, the Peñas' Sunnyside cousins, Hilda and Olga Loera, were friends of Faith's when they were all in elementary school," her mother said.
"Faith's 30-40 minute segment focuses on her growing up half-white, half-black in Sunnyside and her two trips to Nigeria to visit her father and his family, including her half-sister and two half-brothers," said her mother.
She said the documentary includes many scenes of Sunnyside and the Yakima Valley, including footage of the 2002 Lighted Farm Implement Parade.
"The film crew loved the parade. They also enjoyed the sky, the hills, and old neon signs, like that of The Golden Pheasant," she added.
Adiele said many Sunnyside residents appear in the documentary.
Faith Adiele's journey home tells of her desire to meet her absent father, who left America soon after her birth with a promise to return. What had become of him after the civil war in his native Nigeria is among the questions Adiele sought answers to as she embarked on her own journey of discovery. Pursuing the human longing to heal the wounds of childhood and family, Adiele is writing two books that relate and share her personal explorations and uncommon journeys.
The first, Meeting Faith: The Forest Journals of a Black Buddhist Nun, is scheduled for release by W.W. Norton & Company in April 2004.