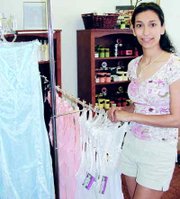 Thank goodness the days of never mentioning a woman's undergarments is a thing of the past. At least, that is the philosophy of Amanda's Lingerie Closet, East Edison Avenue, Sunnyside, owned by Amanda Blount of Sunnyside.
The 24-year-old businesswoman officially opens her closet doors Monday, April 5, catering to every woman's secret desire to feel good "all under."
"Like most women, I enjoy lingerie. And, like most women, I couldn't find the right fitting or type of lingerie I wanted to wear except through catalogs or by traveling great distances," she said.
"I want to offer Lower Valley women a place closer to home, where they can find pretty, well constructed lingerie that will make them feel good about themselves," said the young businesswoman.
"I think every woman should be able to enjoy wearing nice lingerie and be able to purchase it in the proper sizes," she said.
Blount, who is trained as custom bra fitter, said 70 percent of all women are wearing the wrong size bra.
"I can help women have a better fitting bra and help them find one that is not boring white," she smiled.
In addition to selling sexy bras and panties, Amanda's Lingerie Closet will carry a select array of bustiers, corsets, similar to those offered by the famous Victoria's Secret chain of women's undergarments.
"I will be carrying a number of East Coast lines and some garments from Italy for small, average and plus -size women," she said.
In addition to undergarments, Blount intends to offer romantic night wear, candles and lotions.
"I also plan to carry a line of jewelry," she said.
Amanda's Lingerie Closet will be open Monday through Friday, 10 a.m. to 6 p.m.