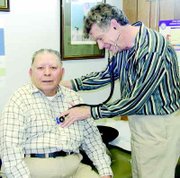 A decision to attend his 30th high school class reunion changed the course of Dr. John Allen's medical career.
Originally from Yakima, the tall, lanky man had been gone from the area since high school, spending several years in the military before heading to medical school and private practice.
On the occasion of his class reunion, Allen had a perfectly nice medical practice in Orlando, Fla., where he dealt with all types of patients, including a large number of elderly patients.
"I took a look around the Lower Valley and found there might be a place for me here," he said.
That spot was in the Sunnyside offices of Dr. Arthur Clevenger, who in 1991 was about ready to retire. Allen leaped at the opportunity to return to his home state.
Today, Allen's Sunnyside medical practice closely resembles his Florida clientele. He is again serving a large population of elderly patients, who have a multiple of special medical needs.
His dedication to the Valley's senior citizens recently earned him the Sunnyside Chamber of Commerce's Volunteer of the Year honors.
"He is willing to go way beyond his call of duty to do house calls for his elderly patients who cannot come into the office to be seen," said Patty Gable, his loyal office nurse.
"He is very good with the elderly and will even see patients at the different nursing homes who are not even his patients," she explained.
Further testimony of Allen's dedication to the health of the Lower Valley's senior patients is his willingness to serve as the rehabilitation doctor for Hillcrest Manor in Sunnyside. He regularly sees anywhere from 30 to 60 patients at Hillcrest Manor and at Grandview Health Care Center.
"I believe we have a duty to provide quality end of life care to our elderly," Allen said.
His dedication to the end of life issues extends to those people who are suffering from life-threatening and terminal illnesses. For most of the past 10 years, Allen has also served as the medical director for Lower Valley Hospice.
Allen's dedication to the medical profession has led him into the realm of teaching young doctors some lessons in empathy for patients and their families. He currently serves as the medical director for a teaching program for third and fourth year medical students in cooperation with the University of Health Sciences in Kansas City, Mo.
"We work with young medical students who are on core rotations in their studies," Allen explained. He became involved in the teaching program several years ago when local physicians, led by Dr. Lloyd Butler and Sunnyside Community Hospital, took on the role of being a teaching hospital.
The program is dedicated to exposing third and fourth year students to rural medicine," Allen said. "Our aim is to make rural medicine a consideration for the young physicians. We've had very good success with the students," he said.
Currently, Allen is working with Doctors Andrea Opalenik and Jennifer Dumbolton, who are doing their rotations in Sunnyside. Allen said Dumbolton's husband is expecting to take over Dr. Butler's practice in the near future.
"So, it's a good bet, she, too, will be practicing here, eventually," Allen said.
As for his own retirement plans, he admits they are a bit off in the future.
But in the meantime he and wife, Maureen, spend a lot of quality time with their 11-year-old son, Nigel. The family is planning a well-deserved vacation to England this summer. In the meantime, the Allens enjoy season tickets at a number of regional theaters from Yakima to Seattle. "When young doctors ask me what there is to do in this area, I always hold up my theater tickets. I also tell them about the many fine recreational opportunities which are within easy reach.
"This is a wonderful place to live," he said.
"I've never regretted moving back home," he added.