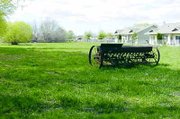 In the next few weeks ground will be broken on another new development being built in Sunnyside. Sunridge Townhomes is a community of duplexes set to be built in the 700 block of McClain Drive.
Geoff Gowing with Bombay Construction of Tacoma said the development will include 22 units in 11 two-story townhouses. According to Sunnyside Building Inspector Mike Storms, the development will include 10 three-bedroom, two-bathroom units and 12 four-bedroom, two-bathroom units.
Gowing said the Sunnyside location was chosen for the new development because a need for housing was seen. He explained that every time the company he works for looks at building a development, like Sunridge Townhomes, it examines the demographics of an area, looking specifically at housing needs.
Gowing said Bombay Construction is no stranger to Sunnyside, having put in a development on Ida Belle Lane not too long ago.
Gowing said he is hoping to start cutting ground on the development later this week, with a completion date set for sometime this fall. He added that most developments like Sunridge Townhomes take about seven months to build.
Gowing said the McClain property isn't the only property Bombay Construction is looking at developing in Sunnyside. He said they have another piece of property they are hoping to begin developing this fall.
Storms said Gowing first began talking to the city about developing the McClain Drive property about a year ago. He explained that it took a little time to get things going because two parcels of land had to be merged into one before the project could move forward.
The project is currently going through the environmental review process, which ensures that there are no outlying environmental issues at the site.
At this point, Storms said he doesn't predict there will be any problems because of similar developments in the area. The property being developed for the new townhouses is flanked by Valley Commons on one side and is across the street from Valley Commons II.