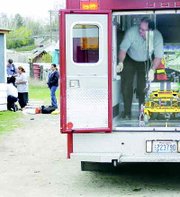 Three-year-old Luis M. Lopez is in satisfactory condition at Kadlec Medical Center in Richland after he was hit by a car driven by his father near his home Monday afternoon.
According to Sunnyside Police Sgt. Jeff Cunningham, Sergio Maldonado was pulling out of his driveway in the 200 block of Zillah Avenue Monday at about 1:50 p.m. Backing out and turning sharply around, Maldonado didn't see his son, who had followed him out of the house.
Cunningham said the front driver's side tire hit the youngster.
Sunnyside Fire Department paramedics arrived on scene and helped the young boy, who sustained a broken leg. He was taken to Sunnyside Community Hospital and later transferred to Kadlec Medical Center.
According to Cunningham, intoxicants were not a factor in the accident. Rather, he said, driver inattention and loud music were factors. The driver had loud music playing at the time of the accident and could not hear the victim, said Cunningham.