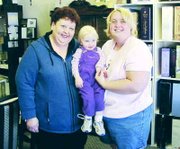 When long-time Sunnyside businesswoman Carol Ashby announced her decision to close her popular South Sixth Street wedding stationery shop, Jacki Hansen saw an opportunity to expand her growing second-hand shop.
In addition, the businesswoman saw a chance to take on a new line of retail sales. Hansen, who with her daughter, Aimee Tourand, operate AJ's Yard Sale Store, took over the Ashby's Invitations Plus shop two weeks ago.
Hansen said she will continue to take orders for wedding and engagement announcements. In addition, she plans to continue offering various types of special occasion gifts at the South Sixth Street shop.
"But I'll also be expanding our business to include furniture and appliances," Hansen added.
In the meantime, Ashby, who operated the wedding invitation and special occasion gift business for more than 17 years, said she intends to drastically cut back her work load.
"I want to spend more time with my nine grandchildren," said the energetic businesswoman, who said she plans to shy away from the limelight in the future. "
I don't want my picture taken and I just want to work from home," she said.
But Ashby said she isn't going to completely go out of business. "I just closed my retail end of things," she explained.
In recent years, Ashby said she has been focusing more of her time on decorating for corporate and special events.
"Now I want to control more of my time," she said.
So, she plans to continue that portion of her business from her home. "I'll be working by appointment only," Ashby said.