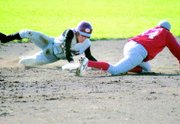 GRANDVIEW - A complete game pitching performance by Brian Hall (1-3), coupled with some nifty hitting on the part of the Greyhounds, lifted the Grandview High School baseball team to its first Mid-Valley League victory of the season yesterday afternoon.
The 'Hounds (1-2, 2-7) squeaked out a 3-2 victory over Prosser.
Hall had a disappointing performance in the season opening 10-4 non-league loss to Prosser back in mid-March, but yesterday the senior was on top of his game. The hurler limited the Mustangs to just eight hits in the seven-inning outing, fanning four along the way.
"Brian pitched real well," said Grandview Coach Mike Chester. "He had some good defense behind him. He stepped up to the challenge."
Hall also figured in prominently on the offensive side of things. Going 2-for-3 at the plate with a walk, Hall ripped a gapper that got by the Prosser center fielder in the bottom of the fourth. The ball rolled to the outfield fence, allowing Hall to reach third with a triple. He ended up scampering home to square the contest at 2-all on a ball put into play by J.R. Camacho.
Grandview scored the winning run in the bottom of the fifth. After Orlando Gomez drew a walk and stole second, he got pushed to third on a bloop single off the bat of sophomore Kevin Concienne. Gomez plated the winning run on a bunt laid down the first base line by Adam Pena.
"I call it a safety squeeze," said Chester. "The runner on third doesn't take off until the batter makes contact."
Gomez also accounted for Grandview's first score of the game, lashing an RBI single in the bottom of the third.
The Greyhounds are scheduled to take on Ellensburg this coming Saturday on Grandview's home field. The doubleheader is slated to begin at 11 a.m.