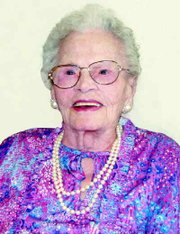 Bertha Curfman has been waiting a long time for today. The Sunnyside resident is now officially 100 years old.
One hundred years old today, Wednesday, April 7, Curfman celebrated her centennial with about 50 family members at her home in Hillcrest Manor in Sunnyside.
Family from as far away as Alaska joined Curfman for her celebration, which has spilled over into the week as well wishers have sent cards or dropped by to say hello.
Curfman was born Bertha Bates in Oklahoma's Indian Territory in 1904 to cotton farmers.
She moved with her family to Clayton, New Mexico, where her father filed for a homestead adjacent to the Curfman family, which she later married into. The Santa Fe Trail divided the two homesteads.
On Christmas Day, 1921 she was married to Clarence Curfman.
They moved to Washington in the early 1930's during the Great Depression. Drought drove them from New Mexico. Curfman's family located in the Outlook area in 1941. They leased 160 acres of Indian land for a dairy and later an egg business.
After her husband's death in 1972, Curfman moved into Sunnyside.
She is now a resident of Hillcrest Manor.
Curfman has five children, Wilford, Clifton, Bemma Lou, Melvin and Troy. She has 16 grandchildren, 41 great-grand children and 15 great-great grandchildren.