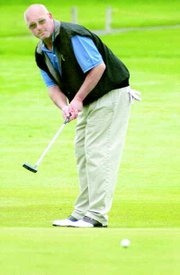 It's tough to beat a golfer who's swinging away on his home course. Most of the 135 competitors entered in this past Monday's Central Washington chapter PGA pro-am tourney at Sunnyside's Black Rock Creek Golf Course learned that the hard way.
Paced by PGA head pro Jeff Bender, the Black Rock Creek contingent dominated Monday's play. The April 5 one-day tourney at the Sunnyside course was just one stop in the 2004 Central Washington pro-am series, which is comprised of 26 such competitions.
Bender finished in a three-way tie for top honors in the professional division. He, along with Scott Johnson of Horn Rapids Golf Course and Steve Stull of Meadows Springs Country Club, toured the 18 holes with identical two-under 70's. Former Sunnyside High School golf standout Scott Galbraith, now the club pro at Toppenish's Mt. Adams Country Club, had the next lowest score in the professional division, firing a three-over 75. Chris Isaacson of Tri-City Country Club and Ed Paine of Leavenworth Golf Course rounded out the list of pros who cashed Monday, finishing in a two-way for fifth with 76's.
Bender also picked up two of the seven professional "skins" that were paid out Monday. No other pro could match his birdie on No. 5, nor his birdie on the par-5 sixth, the No. 1 handicap-rated hole on the course. Mt. Adams Country Club assistant pro Aaron Hunsaker salvaged his round of 77 by earning a "skin" on the par-4 10th hole, which he eagled.
All three of the squads Black Rock Creek had entered in Monday's tournament cashed in the team competition. Including the foursome of Tom Diener, Pete Veliz, Randy Boast and Geoff Bowlsby-who combined their talents to shoot a first place aggregate score of 189. The next closest finishers in the team event, six strokes back with a 195, was the Black Rock Creek squad of Travis Davis, Robbie Goins, Jim Johnson and Ron Harle. Tying for fourth place honors with a 198 was the Sunnyside team of Bob Hall, Bud Schatz, Akura Nozaka and Dan Angotti.
Bender's two-under 70 was utilized by all three of the Black Rock Creek squads competing in team play.
The low amateur round posted Monday was a one-under 71, claimed by Dan Whitaker of Ellensburg Golf Course. Hall, on his home course, tied Steve Smythe of Mt. Adams Country Club for the second low amateur round. Both shot three-over 75's.
Amateur division #1 golfers cashing in the net division (actual score minus handicap) included Schatz, who tied Randy Richmond of Leavenworth Golf Course for top honors with handicap-aided 68's. Goins placed third in the net division with a 71, and Nozaka tied for fourth place honors with Bob Greene of Mt. Adams Country Club with 72's.
In amatuer division #2, Diener bested the grouping, firing a five-over 77. Amateur division #2 net placers included Veliz, the top finisher, with a handicap-aided 68. Also cashing in that division on the net side were Willie Jones of Mt. Adams Country Club, third with a 72; and Johnson, who netted a 73 on his home course to tie for fourth place honors.
Harle swept aside the competition in amateur division #3, shooting an 82 to best the next closest finisher by a full four strokes. On the net side in amateur division #3, Bowlsby tied for second place honors by posting a handicap-aided 70.