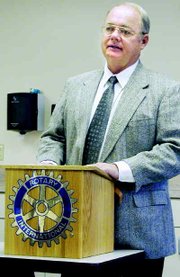 Developer Mike Johnson is no stranger to building new neighborhoods in different communities, working to construct entry-level homes for the people who need them.
Wednesday morning, Johnson talked to members of the Sunnyside Daybreak Rotary Club about his latest project on Highland Road in Grandview. Johnson said his newest subdivision consists of 50 lots on 11 acres of land located just south of Arthur H. Smith School. Johnson said since October he has built 12 homes in the subdivision, all within the $95,000 to $99,000 range, and has contracts for 12 more.
"There's definitely a need here," he said.
Johnson, who started as a developer approximately 20 years ago in South Carolina, said developing is a business that requires a person to find characteristics in a community that will make for a successful venture. For Johnson, this meant scouring the western United States looking for an area with a market for entry-level housing.
Johnson said he looked at the demographics of different areas, specifically examining the ratio of home rentals to home ownership. He noted that in the Lower Valley the ration was high on the rental side.
"It seemed like a good place to offer the opportunity to put people into a home for the same cost as a rental," Johnson said.
Johnson said he sees building new housing developments, like the subdivision in Grandview, as good for the community and the area as a whole. He noted so far he has spent more than $1 million at area businesses, purchasing everything from paint to lumber.
"Development activity in [the form of] a housing district is one of the best things you can put into a community," Johnson said.
He added that the houses being built aren't something that are going to disappear in a year's time, instead those homes will be there for many years to come.
"It's going to be there for 100 years hopefully," he said.