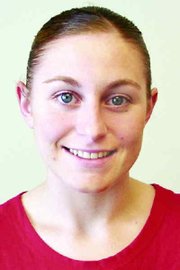 BREMERTON - A project on biofiltration of environmental pollutants earned Sunnyside High School junior Megan Cornelius a gold medal at the annual Washington State Science and Engineering Fair, held in Bremerton this past weekend.
As her prize, Cornelius earns an all-expense paid trip to the International Science and Engineering Fair to be held in Portland, Ore., May 9-15, according to Joyce Stark, Sunnyside High School science teacher.
In addition, the young research scientist earned the Water Federation's Stockholm Junior Water Prize and an Evergreen College one-year tuition scholarship. Stark said of the 32 Sunnyside School District students eligible to compete at the state fair, 25 brought home state honors.
She said Sunnyside's Stacey Gorski earned a state bronze medal for her project investigating the use of natural compounds to protect healthy cells from radiation during cancer treatments.
Stark said Gorski's bronze medal made her an alternate for the all-expense paid trip to Portland, Ore. "However, Gorski already has a paid trip to International," said Stark.
Gorski earned her trip to the international science event as the grand prize winner at the Mid-Columbia Regional Science Fair held in March in Kennewick, Stark explained.
In addition to her bronze medal, Gorski, a SHS senior, collected special honors from the U.S. Army, U.S. Navy and the U.S. Metric Association. Gorski also earned an Evergreen College tuition scholarship and the International Society - Optical Engineering award.
Earning first place honors at the state fair were Bootsma and senior Halley Rodriguez, who was attending her first state science fair, Stark said.
"It was very exciting to see all of the students do well," said Stark, who added she was especially proud of Rodriguez's showing at State.
"She did very well for her first time" Stark said.
Rodriguez, who presented a project focused on filtering mold and bacteria from the environment, also captured the attention of the U.S. Army award judges.
"She also won the Intel Environmental Award," said Stark.
This year, Bootsma also collected U.S. Navy honors, in addition to her first place medal for her inquiries into the effects of textile effluent on plant physiology.
Stark also praised sophomore Skyllar Gonzalez, who received second place honors at state. "This was his first year competing in science fairs and he showed a lot of potential for earning more awards," Stark said.
Gonzalez collected special recognition from the National Society of Professional Engineers and the Yale Science and Engineering Fair Award.
Sunnyside High School senior Amber Gonzalez brought home second place honors in the high school division. Earning third place honors at the state event were sophomores Desiree Vasquez, Josefina Chavez and Addy Hernandez, and senior Elias Wise. Wise also earned the Quality Control Award for his project.
Sunnyside School District's Harrison Middle School students also racked up a number of awards at the two-day state event. Stark said Sunnyside seventh graders Tony Louie, Janelle Mendoza, Megan Tyler, Hannah Vlieger and Samantha Bridger collected first place honors at the state fair.
Earning second place awards in the seventh grade division were Tristan Abbott and Levi Hagart. Sunnyside eighth grader Brenda Barrios also earned second place honors at state.
Sunnyside middle school students earning third place honors were seventh graders Rubi Chavez, Autumn Hallaway, Chris Sambrano and Naomy Velasco, as well as eighth graders Jessica Clements, Dacia Drollinger and Nicole Southern.
Stark said she was very proud of all of the students.
"There are a lot of up-and-coming science students ready to show their potential on the state level," she said.