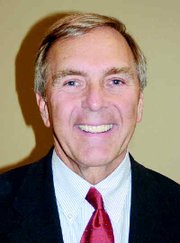 Creating jobs, working to improve health care and ensuring that young people receive a good education are all things that are important to U. S. Representative George Nethercutt, the Republican candidate who is running for the U.S. Senate against Democrat Patty Murray.
Nethercutt, who currently represents Washington's 5th Congressional District, Thursday afternoon said that he believes giving a child a good education means giving them a good chance at life. He noted that if a child receives a good education, then a good job is soon to follow.
The lawmaker was in Sunnyside yesterday to present a U.S. flag to city officials for use at the new community center.
Nethercutt said he wants to be a leader when it comes to improving the job market and economy of Washington.
"This is the number one issue facing the people of our state," Nethercutt said.
He said in recent years Washington has not been well led in the U.S. Senate, which has led the state to fall behind the rest of the country in terms of its economy.
Nethercutt said another issue facing the people of Washington is health care. He noted that Washington is one of 19 states that is currently in a health care crisis. Nethercutt said he wants to help ensure that all young people have access to health care.
"I will fight really hard to aid the health care needs of all people," he said.
When it comes to the budget and national spending, Nethercutt said he has been a part of the Congress that worked to balance the budget for four years in a row. He said he also worked to reduce spending and cut the deficit.
"I have a proud record of fiscal conservatism," Nethercutt said.
However, Nethercutt added that you can't look blindly at the country's deficit. He said over the past several years the United States has had to spend money on national defense.
"We have to do these things," Nethercutt said.
When it comes to the war in Iraq, Nethercutt said he supports President George Bush's actions.
"I believe it's necessary for the protection and security of the world and the U.S.," Nethercutt said.
Nethercutt isn't the only Republican seeking Murray's Senate seat. Reed Davis, an associate professor at Seattle Pacific University, is also running for the position. Nethercutt said what separates him from Davis is he has the support of organizations like the Washington Sate Republican Party. Nethercutt said he also has a record of accomplishments from his 10 years in Congress.
"I have a record of accomplishments that make me the best candidate to run against Patty Murray," he said.
Nethercutt, a Spokane native, has served as a U.S. Representative since being elected in 1994. He is a graduate of Washington State University and Gonzaga University School of Law.
As a member of Congress, Nethercutt serves on the House Committee on Appropriations, as well as the House Science Committee.
Nethercutt is married to the former Mary Beth Socha of Summerville, S.C. and has two children, Meredith and Elliott.
George Nethercutt...candidate for U.S. Senate