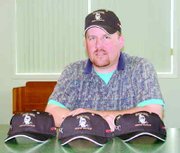 Playing 18 holes of golf, skeet shooting and bowling three games may sound like too many activities to squeeze into one day. However, for Brad Kuhlmann of Selah, the three events, when combined, make up the basis for an annual triathlon event that helps raise money for the Yakima Wishing Star Foundation.
Kuhlmann, one of the organizers of Yakima's annual Fatboys Triathlon, said this will be the fifth year the event has been held. He said this year 32 teams are registered for the triathlon.
Kuhlmann said the idea for the event came several years ago, after his terminally ill nephew had been granted a wish through the Make a Wish Foundation. He said after that he decided he wanted to do something to ensure that other children had the opportunity to have a wish granted through the local organization.
Kuhlmann said the triathlon idea was decided on for the annual fund-raiser because he and a friend who put the event together wanted to offer sporting events that appealed to weekend athletes.
"We put these three activities together for charity," he said.
And the response has been overwhelming. Kuhlmann said over the years the event has grown from 12 teams to 32, which is the maximum that can participate. He said word of the event has spread a lot farther than he would have ever imagined, with teams coming from the Tri-Cities and Sunnyside to take part in the Yakima-based event.
"It's all just been word of mouth," he said.
This year Kuhlmann and the other event organizers decided to add a new fund-raising idea to the Fatboys Triathlon, selling hats, jackets and t-shirts with the event logo. He said the hats are $20 each with all of the money going towards the Wishing Star Foundation.
Heidi Anderson with the Yakima chapter of the Wishing Star Foundation said fund-raisers like the triathlon are important to the organization, which is funded completely through donations.
Anderson said the organization works hard to keep money coming in to ensure that no wish is ever denied due to a lack of funds. She said last year the local chapter of the foundation granted 22 wishes to Yakima Valley children with life threatening diseases.
According to Anderson, over the past four years the triathlon has raised approximately $25,000 for the organization.
Although registration for the triathlon has already come to a close, those interested in purchasing a hat, jacket or t-shirt to support the Wishing Star Foundation may do so by logging onto the Fatboys Triathlon website at www.yaft.com or emailing Kuhlmann at brad@yaft.com.