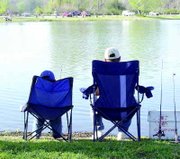 Saturday, April 24, marks the opening day of the lowland lake fishing season in Washington.
Officials from the Washington Department of Fish and Wildlife estimate at least 300,000 Washingtonians will be casting their lines on opening day.
"It's still one of the best entertainment values around," said Washington Department of Fish and Wildlife Director Jeff Koenings. "With kids under 15 fishing for free, it's a recreational bargain for the whole family, available throughout the spring, summer and fall."
A total of more than 25 million fish were stocked in nearly 1,000 different lakes across the state last year. The fish, which include trout fry, kokanee fry, trout, rainbow trout and other warmwater species fish, are now of catchable size.
But, said Koenings, people need to remember to purchase their freshwater fishing license before heading out to any nearby waters. Adults may purchase their license for $21.90 at one of several hundred licensed dealers across the state. Juveniles may fish for free until the age of 14. Once a young fisher is 15 years old, they can buy a freshwater plus saltwater combination license for $5.48. Fishers 16 years of age and older pay adult prices for fishing licenses.
Fishing licenses are good from April 1, 2004 through March 31, 2005. Licenses can be purchased on the Internet at www.fishhunt.dfw.wa.gov. Every fishing license buyer also receives a free vehicle use permit, which must be on any car parked in a department of fish and wildlife fishing access parking lot.
There are several fishing events sponsored by the Washington Department of Fish and Wildlife held across the state during the year. Information on events can be obtained at the www.castforkids.org website.
Washington state also holds annually a free fishing weekend for residents. No license is required to fish on these days. The free fishing weekend is always held the weekend of the first full week in June, coinciding with the last two days of National Boating and Fishing Week. Free fishing weekend in 2004 will be June 12-13.
Numerous rule changes for fishing have been implemented at several spots across the state this year. For more information on rule changes or any other related activities, go the fish and wildlife website.