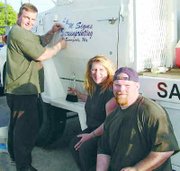 Even though the thrill of being named the Sunnyside Chamber of Commerce's Outstanding New Business has not quite worn off, a new wave of excitement is sweeping through the L&M Screenprinting shop at 420 S. Seventh St.
"We just purchased a boom truck which will make hanging up new signs easier and a lot faster," said Marietta Schmid, the "M" in L&M Screen printing.
Just two weeks ago, the use of a boom truck would have made the installation of the new "Amanda's Lingerie Closet" sign a lot easier for "the guys," said Schmid.
"The guys" are Schmid's husband, Larry and her son, Lionel Bertran, who spent several hours hanging the East Edison Avenue business sign.
"We'll be able to cut our time in half with the boom," she said.
The Schmid family's artist, she is no stranger to odd twists the world of screen printing can take. Her first major job involved a boom truck.
"It was a boom truck that got me started in the screen printing business nearly 10 years ago," she said.
"Larry, who was working for a Port Angeles specialty building company, told his boss I could draw. He suggested I might be able to create some art for the side of company's new boom truck," she explained.
"I created a watercolor of a boom truck that the boss liked, and the sale of the drawing got me into the screen printing business," she said.
Schmid said the addition of the boom truck brings the story of her business full circle. "Now, here we are in Sunnyside, and a boom truck has again been dropped into our laps," she said
But the story of Marietta's boom truck art doesn't end with the purchase of the family's new truck. In fact, Schmid said, it is just the beginning.
"I received word two weeks ago that Larry's former boss was looking for me. He wants to use my truck art on his company building catalog. It is destined for national distribution.
"So, nearly 10 years later, my boom truck art has helped us to purchase a boom truck of our own," she explained.
"I know it is going to help our business grow in Sunnyside and the Lower Valley, as well," she said.
While the family was first focused on operating a tattoo shop, the Schmids soon realized that what Sunnyside needed was a screen printing shop.
"Once people knew we did special print jobs, our business took off," said Schmid.
Both her husband and son have talents bring a variety of experiences to the business. "Larry and Lionel not only know a lot about construction and operating boom trucks, they've also done some tree service work," she said.
"They are pretty handy," she grinned.
"We're all excited about the new addition to the company. We don't even know yet what new doors it will open for us," she said.
The Schmids came to Sunnyside a year ago and immediately transformed a former beauty shop into a friendly little shop, where customers could enjoy a quick game of cribbage with Larry or Lionel.
"But lately, the games have been few and far between as the screen printing business has geared up. But we don't mind," said Larry Schmid.
Many of the designs used by the business are original designs created by Marietta Schmid, who for years has been sought after as a tattooist.
"Now I only do tattoos by appointment," she said. "I just don't have time any more for the tattoos.
"Our focus is now on business signs, banners and the t-shirt and cap printing business," she explained.
She said the men of the family expect to get their certification for electrical work soon.
"Then we'll be able to add installation of electrical signs to our list of services," she said.
Meanwhile, the print orders continue to flood the shop.
"Moving to Sunnyside has opened a lot of doors for us, some we still don't know about," said Schmid.
"God has a plan for us in Sunnyside," she said.
"I know that is why we are here."