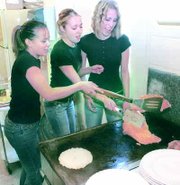 Thirteen isn't necessarily always an unlucky number, just ask members of the Miss Sunnyside Court. Saturday afternoon 13 teams took part in the Miss Sunnyside bowling fund-raiser at Valley Lanes, raising more than $1,600 for the American Cancer Society and the Wishing Star Foundation.
"It was a lot of fun," said Miss Sunnyside Chelsea Skyles. "It was stressful in the beginning, but it was a lot of fun."
Skyles and the court spent three weeks putting the bowling tournament together, getting teams signed up and gathering donations. She said the court tried to raise awareness of the charity event and get teams signed up by dropping off flyers at area businesses.
When Saturday finally arrived, Skyles said those in attendance were very generous, purchasing raffle tickets, split-the-pot tickets and taking part in the silent auction.
"People were throwing money out at us," Skyles said. "They really wanted to help out. I hardly ever got any $1 bills."
Skyles said 65 people participated in the tournament with an additional 20 or so people coming into the bowling alley to help cheer on their friends and family.
Taking first place in the charity bowling tournament was the Cascade Natural Gas team, with Edwards Auto Glass coming in second and the team headed by Bruce Epps coming in third.
Skyles said through helping put together the tournament she learned that working hard can bring good consequences.
The bowling tournament wasn't the only thing the Miss Sunnyside court has done lately in the name of charity. Sunday, April 4, the court joined forces with the Sunnyside Masonic Lodge to host a pancake breakfast with all of the proceeds once again going to the Wishing Star Foundation.
"The pancake feed was a lot of fun," Skyles said.
She said between 50 and 75 people attended the breakfast, which helped raise more than $250 for the Yakima chapter of the charity.
Skyles explained that the reason the court has been busy raising money for the Wishing Star Foundation and the American Cancer Society is because when Skyles was first running for Miss Sunnyside she chose the American Cancer Society as the charity she would support if she was awarded the crown.
Skyles said the Wishing Star Foundation became one of the charities she wished to support because she wanted to do something positive for children.
"I wanted to work with kids," she said.
Skyles said simply raising money for the foundation isn't enough for her. She said she hopes to spend some time this summer with young cancer victims.
In the meantime, Skyles and the rest of the Miss Sunnyside Court have raised $1,865 for the Wishing Star Foundation and the American Cancer Society. Skyles said every wish the Wishing Star Foundation grants typically runs about $3,000.
"We were happy to raise half a wish," she said.