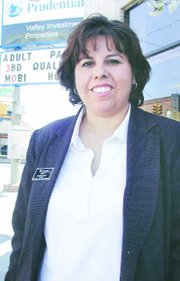 She's known by a lot of names, but usually, people know her as "Amanda's mom." She's also known as the mother of Sunnyside High School graduate Adrian and high school junior Aaron.
But that is changing as Lucette Garcia strikes out in a new career direction.
Since November Garcia has been studying the 60-hour course needed to test for her realtor's license.
On March 23, she started working for Prudential Valley Investment Properties as a licensed realtor.
"Real estate is something I always wanted to do since before the kids were in school," said Garcia.
After moving to Washington from Texas seven years ago, Garcia found herself working as a chiropractic assistant until burn-out set in and she quit.
Looking on the Internet, Garcia began checking options. She went to speak to real estate broker Sandy Bos, who was interested in hiring another bilingual realtor.
"She told me about the classes I needed to take," said Garcia, adding that realtors in the office were helpful in explaining some of the real estate terms when she was preparing for the test.
After completing the Internet based course, Garcia tested for her realtor's license and passed on the first try.
"It was a lot harder than I thought it was going to be," she said.
What appeals to Garcia is the idea that she will be helping people find their dream home.
"Finding your first home is a dream come true for many people," said Garcia.
She also enjoys seeing all of the different houses that are on the market and getting to know people.
"I love getting outside and meeting people and not being cooped up all day," said Garcia.
She added that she also enjoys the freedom in scheduling.
Garcia and her family moved to the Lower Valley seven years ago from Houston, Texas after a visit to the Lower Valley.
"We came here to visit one year and I really liked the slower pace and I loved the agriculture," said Garcia.
Although most of her family still lives in Texas, she enjoys life in Sunnyside.
She has already started showing clients homes.
"It's great seeing people so excited about a house," Garcia added.