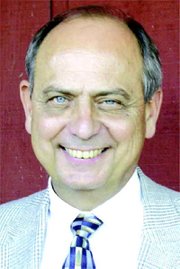 4th District Congressman Doc Hastings has no qualms on how he will be judged by voters come November.
Hastings (R-Pasco) hasn't yet formally announced his candidacy for re-election, but did reveal yesterday that he has every intention of seeking a sixth term to the U.S. Congress.
"I'll be running on my record of service," said Hastings, who stopped off for a short visit in Sunnyside yesterday enroute to making an appearance in Wapato, where he and fellow Republicans turned out to announce the formation of the Washington Farm and Ranch Leadership Team.
In confirming that he will once again be a candidate to represent Central Washington voters, Hastings said the 2004 campaign has already swung into high gear. Money has already been raised, he said, and the Hastings' camp is organized in all 10 counties he represents.
Why should Central Washington voters return Hastings to the nation's capital?
Simply put-Hastings said his record of service shows he has the best interest of local residents in mind. He points with pride to his representation of the ag industry.
Most recently, he was instrumental in securing federal funding for the Black Rock Reservoir feasibility study.
"And we'll be prepared to act when the feasibility study is done," he promised.
Hastings also was one of the key players this year in convincing the USDA to purchase asparagus from local growers. American asparagus growers have fallen on tough times recently, because of the federal government's decision to open the U.S. marketplace to South American grown asparagus.
He, too, helped bail out ailing apple growers several years ago when they couldn't find a market for their crops, by convincing his fellow legislators to offer financial assistance.
Another feather was added to Hastings' cap when he worked successfully to get the allocation of federal funds for the market access program doubled to $200 million. That program is set up to help American farmers market their crops overseas.
Agriculture isn't the only area of interest Hastings has.
In terms of the clean-up at the Hanford Nuclear Reservation, he has worked to do away with the funding spikes of the past. "I feel we've secured stable funding for the clean-up that is needed there, and in the process that has accelerated the clean-up," he said.
Hastings isn't shy in bringing up the citizenship bill he recently sponsored, that was eventually adopted by lawmakers and signed into law by President George W. Bush. In essence, the legislation cuts the waiting period to become an American citizen from five years to one for those who have served in the U.S. military.
"Anybody willing to put their life on the line for this country deserves to have the process speeded up to become a U.S. citizen," he said. "I'm very proud this bill was signed into law."
Hastings' time in trying to get himself re-elected this fall may be limited, as he is currently serving as the Washington state vice chairman of the Bush re-election campaign. He said a concentrated effort is underway to "...carry Washington this year." In the last Presidential election, Washington's electoral votes were cast for Democrat Al Gore.
Hastings' stop-off in Sunnyside Tuesday afternoon came on the heels of his recent trip to Iraq. He relayed one of the messages many of the troops returning from the Mideast bring with them, that it is unfortunate the media doesn't cover the positive aspects of what the American military is doing in Iraq. Things like rebuilding schools, returning the government to the people, themselves, and opening up the worldwide information highway to the Iraqi people are all positive things that get little attention, he said. Hastings said he saw for himself that the Iraqi people are craving information from the outside world, as now just about every home there sports a satellite dish.
When police stations in Iraq get bombed by terrorists and entire police forces are wiped out, Hastings said more Iraqis step forward as replacements than positions that are open-another sign that the Iraqi people are in favor of what the U.S. is attempting to accomplish there.
"I came back with a different impression than we're getting over here," he said. "We're in a war on terrorism."
He cites the recent increase in terrorist attacks in Iraq to the approaching date of June 30, when Iraq's governing council is scheduled to take power.
Bottom line-Hastings said he stands behind Bush's decision to involve military troops in freeing the Iraqi people from their oppressors.
All in all, Hastings is proud of what he has accomplished during the five Congressional terms he has served Central Washington, and believes the stances he has taken is for the betterment of all.
"I certainly think it's a record I can run on," he said.
. Bob Story,can be contacted at
(509) 837-4500, or e-mail him
at bstory@eaglenewspapers.com