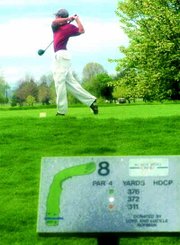 YAKIMA - The vacancy on the Yakima County District Court bench has officially been filled and Sunnyside resident Donald W. Engel is the attorney who has been chosen to take the spot.
"I'm looking forward to it," Engel said Tuesday, just minutes after Yakima County commissioners made the announcement.
Since mid-February Yakima County has been looking for candidates to fill the position left open by judge Ruth Reukauf, who was appointed in January to serve as a judge in Yakima County Superior Court. Over the past few months the commissioners have gone through a number of steps to determine who would be the best candidate for the position. During their search commissioners looked to the Yakima County Bar Association, asking them to evaluate each of the applicants. The evaluation used numerical scores to assess the 13 candidates in four areas. The top three candidates were then interviewed by the commissioners, as well as by Court Consultant Harold Delia.
The top three candidates, who were interviewed Monday, April 12, were Engel of Rick Kimbrough Law Office in Grandview, Rob Lawrence-Berry of Finney, Falk and Lawrence-Berry of Yakima, and Susan Woodard, the presiding judge for the City of Yakima Municipal Court.
Ultimately, it was Engel who received the nod.
"We were impressed by the volume of cases he's heard as a judge pro tem at district court and his willingness to partner with other courts," said Yakima County Commission Chair Jim Lewis. "He's ready to hit the ground running."
Engel, who has practiced law since November 1984, is no stranger to the county court system, having served as court commissioner and judge pro tem for the district court from 1999 to 2001. In the past he has served as the judge pro tem for the municipal courts in Sunnyside and Grandview.
Engel said he always wanted to get back into the district court system, and is looking forward to taking over the position in late April, early May.
In the meantime, Engel said he will get to work closing his legal practice in Grandview. He noted that the case load will most likely be shifted over to attorney Rick Kimbrough.
Looking at his new position, Engel said one of the biggest challenges he will face will be the budgetary issues with which district court has to contend.
Although Engel was appointed to the district court judge position, he will still have to stand for judicial election this coming fall.