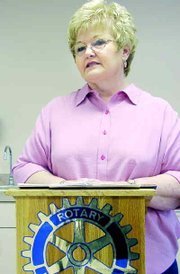 The Yakima Valley Fair and Rodeo is going to look a little different this summer, according to fair and rodeo representatives Sharon Fisher and Jim Herriman. Instead of being spread over 11 acres the fair will be more compactly laid out. The Yakima Valley event will include a carnival and there will be more events, activities and sights for people to take in during their visit to the fair and rodeo.
Fisher and Herriman, who together served as the guest speakers for the Sunnyside Daybreak Rotary Club on Wednesday morning, said this year people can expect to see some changes at the fair and rodeo.
Fisher said the fair is an event that started in downtown Grandview approximately 77 years ago, noting that 13 years ago the fair was moved from its downtown location to its current location along Wallace Way. She said when the fair was moved from its small downtown location to its new 11-acre home, people coming to the fair didn't see as much there because it was spread over a considerably larger area.
"This year we're trying to get it closer together," Fisher said. Herriman later added that bringing the event together will mean that people visiting the fair and rodeo will no longer have to walk what seems like half a mile to get to the carnival or other sights the fair has to offer.
The fair isn't the only thing getting a light makeover this year. Fisher told Rotarians that this year the rodeo, which up until last year was a ProWest rodeo, will be a Professional Rodeo Cowboy Association (PRCA) rodeo event.
"It's a new venture for us," Fisher said. She added that she is hopeful that the new PRCA designation will mean that even more people will come out to both take part in and support the local event.
"We're really excited about this and we're hoping to get support for this," Fisher said, noting that the rodeo is made possible through the use of donations from the community.
Fisher said the fair board is also trying to reach out to other neighboring communities for support.
"We're not a Grandview rodeo and a Grandview fair," she said. "We're called the Yakima Valley Fair and Rodeo."
Fisher added that looking at the students who regularly show animals during the fair it is easy to see the many different communities that are represented. She noted that there are typically more students who show animals from Sunnyside and Prosser at the Yakima Valley Fair and Rodeo then there are from Grandview.
Herriman said he is hoping to see more commercial booths at the fair this year, noting that he is also looking to other neighboring communities for people to come in and showcase their businesses at the fair.
Herriman noted that in addition to trying to attract people from up and down the Yakima Valley to support the fair and rodeo, the fair board is also looking to bring more people in from these neighboring communities to take part in the event. He said this year the Wenatchee Youth Circus will be in town for two nights of the fair and rodeo, and the University of Washington is also scheduled to conduct a band and cheer day in Grandview Thursday, Aug. 12.
Herriman explained that the band and cheer day will give area bands who did not have the opportunity to participate in a band camp to come to Grandview and attend a day long band camp presented by the University of Washington. He said following the camp the students who took part will march in the Grandview parade, as well as perform at the Yakima Valley Fair and Rodeo.
"There's a lot happening this year," Herriman said. "It's going to be a really exciting event."
The Yakima Valley Fair and Rodeo is scheduled to take place Aug. 11-15, with the rodeo taking place Friday, Aug. 13, and Saturday, Aug. 14.