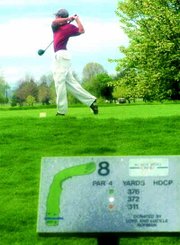 The Sunnyside High School boys golf team easily handled Grandview yesterday, but the Grizzlies might have let one get away in their match against Hanford.
Tuesday's double dual golf match was the Mid-Valley League openers for all three schools.
Playing at Sunnyside's Black Rock Creek Golf Course, Sunnyside disposed of Grandview, 321-348. Hanford swept both opponents, though, accumulating a 307 team total.
"Fourteen strokes, that's what Hanford beat us by," said Sunnyside Coach Glenn Braman. "But it could have easily gone our way. We had our opportunities."
Case in point-Sunnyside's low round was turned in by Kevin Lick. He was on pace to shoot an even-par 72, but gave back four strokes with a pair of bogies and a double-bogey on the last four holes to finish with a six-over 78. Sunnyside also got a 79 from Andrew Schutt, but of the 10 birdie putts Schutt had on the day, none dropped. There was also the six 6's Chris Trammel had on his card.
"Chris turns a few of those 6's into fives, Andrew gets some of those birdie putts to drop and Kevin finishes strong at the end, we beat Hanford," said Braman.
The Falcons were paced by Alex Moore and Bobby Nelson, who carded a 72 and 76, respectively.
Moore's even-par 72 was impressive, considering the Black Rock Creek greens were recently punched for aerification.
"The greens were extremely slow," said Braman.
Moore's highlights yesterday came on holes 13 and 14. He poked his drive 330 yards on No. 13, barely missing a 5-foot eagle putt and having to settle for birdie. On No. 14, Moore sailed his drive even further than he did the previous hole, which resulted in an eagle.
"Moore is a big kid," said Braman. "Not tall, but big. He's one of the longest hitters I've seen."
Sunnyside's team scorecard was comprised of Lick's 78 (38-40), Schutt's 79 (41-38), an 80 by Ryan Webster (40-40) and Trammel's 84 (41-43).
Grizzly golfers Zach Hathaway and Jeramie Drollinger posted rounds of 86 and 89, respectively, but their individual scores weren't applied to the team total.