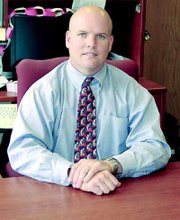 YAKIMA - State law makes it mandatory for every child between the ages of six and 18 to attend school and it's Truancy Commissioner Sid Ottem's job to ensure that all of the youth of the Lower Yakima Valley are doing just that.
Ottem, who has served as the Lower Valley truancy commissioner since January, said he travels to Sunnyside every other Wednesday to oversee cases where students, for one reason or another, are not attending school on a regular basis. He said he works out of the Sunnyside Municipal Court when he is in the Lower Valley, often times seeing as many as 20 to 25 cases during his time here.
Ottem explained that because of state law, every school must keep attendance records noting when a student is in school and when a student is absent. He said if a student is found to have 10 unexcused absences over the course of a year or seven unexcused absences in a month, the school district brings a petition before the court, which both the student in question and their parents must respond to. This is where Ottem steps in.
He explained that the process begins with a petition hearing, during which time a student has to explain the reason for their absence. It is during this time that the court also works to determine if the school's attendance records are correct. Ottem said once this hearing takes place the court will typically take jurisdiction over the student, meaning that they now held responsible for attending school by not only their parents and the school district, but also by the court.
"Now the court is going to be involved in this process," Ottem said.
He said if a student continues to have unexcused absences the school district will once again submit a petition and this time a contempt hearing is held. Ottem said during the hearing the student comes into court with their parents to explain the reason for their continued absence.
Ottem said at this point if the court finds the student's explanation of the absences to be unsatisfactory there are provisions that can take place, including everything from performing community service to putting them in a juvenile facility for up to seven days.
"Our main goal is to get the student in school," Ottem said.
Ottem, who has been a court commissioner in Yakima County since 1999, said serving as a truancy commissioner is not his only responsibility. He said he also serves as a water rights adjudication commissioner, which is his main focus.
Ottem said he first got involved as the Lower Valley truancy commissioner because of his interest in school and students. He noted that he served as a football coach for LaSalle High School for two years.
Ottem said he enjoys serving as a truancy commissioner, especially when it comes to helping students figure out ways they can succeed and do better.
He said although he's only held the position for several months, he is finding that most of the parents he sees every other Wednesday are interested in their student going to school.
Ottem said working out of the Sunnyside Municipal Court he deals with students from various Lower Valley school districts, from Toppenish and White Swan to Grandview.
"We're just trying to provide another opportunity to keep students interested in going to school," Ottem said of the position. He noted that sometimes the solution to an attendance problem can be as simple as ironing out communication between the school district, the parents and the student.