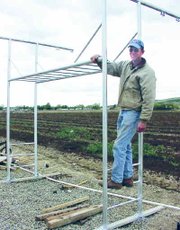 A giant silver swing set created by Stan Beltman of Outlook has been added to the long list of items on the Sunnyside Christian School Booster Club auction block.
The swing set has been donated to the Booster Club for its annual auction, to be held Friday, May 21, in Sunnyside, according to Diana Puterbaugh, booster club secretary.
The Booster Club will host its annual fund-raiser at the Yakima Chief Warehouse at 520 E. South Hill Rd., beginning at 4:30 p.m.
The custom-built swing set was created to provide a compact exercise unit for small yards. In addition to two swings, a couple of rings and a chin-up bar, a horizontal ladder will aid youngsters in creating upper body strength, according to Beltman.
In addition to the swing set, a variety of gift ideas for Mother's Day, graduation and Father's Day will be available, along with a custom-built queen-bed, a Pampered Chef basket of goodies and tons of other items for all occasions.
Tickets are also on sale for the raffle of a 1986 Ford Mustang LX.
Tickets for the event, which also includes a sit-down dinner served by the SCHS junior class, are available by calling the Sunnyside Christian High School office at 837-8995. Raffle tickets are available at Sunnyside Les Schwab Tire store, Bleyhl or from booster club members.