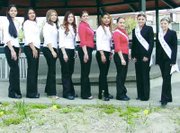 Ten Lower Valley teenage girls will vie for the right to wear the Sunnyside Miss Cinco de Mayo crown at the 2004 Miss Cinco de Mayo Pageant Friday, April 23, at the Sunnyside High School auditorium.
"Corazon Latina" (Latin Heart) is the theme of this year's pageant, which has attracted young Hispanic girls from Sunnyside, Mabton, Grandview, Outlook and Prosser, according to Carlos Maya, pageant committee chairman.
He said tickets to the pageant, which will showcase the candidates' poise, confidence and physical fitness, are $7 per person. Tickets are available at the Sunnyside Chamber of Commerce office, or at the door the night of the pageant.
He said the candidates have spent the past month learning what will be expected of them as members of the Miss Cinco de Mayo Court. Earlier this month, the young women sponsored a beef industry rally in downtown Sunnyside as a fund-raiser, Maya said, as an opportunity to get the candidates ready for the public spotlight.
The court, which will include a queen and a princess, will participate in its first official community event at the annual Sunnyside Cinco de Mayo celebration to be held in downtown Sunnyside May 7, 8, 9, Maya said.
Among the 10 young candidates vying for the Miss Cinco de Mayo crown is Rachel Alvarez, 17, of Sunnyside. The daughter of Rosalia Alvarez of Sunnyside, she is a one of four children. A student at Sunnyside High School, Alvarez is active as a member of the high school Grizzliettes dance/drill team. In addition, she regularly volunteers to read to younger children at Washington Elementary School. Alvarez hopes to one day attend college.
Elizabeth L. Cervantes, the daughter of Juan and Maria Cervantes of Granger, is a senior at Granger High School. The 17-year-old girl describes herself as an outgoing and friendly person, who is a member of the school cheerleader squad during football and basketball seasons. She enjoys music and dancing, and hopes to major in fashion design or business following high school graduation.
Anabel Diaz, 15, of Mabton is the daughter of Roberto and Maricela Diaz of Mabton. A sophomore at Mabton Jr./Sr. High School, she enjoys singing and is learning to play piano. She is active in her church and youth group. Diaz said even though she finds school work hard, she hopes to attend college and major in computer science.
Janet Gonzalez is the daughter of Carmelo and Maria Gomez of Grandview. She is a junior at Grandview High School, where she is active in drill and dance team. In fact, Gonzalez loves dancing so much. she hopes to make it a career. One of four children, she hopes to one day go to dance or modeling school.
Candidate Yesenia Jalifi, 16, dreams of a career in education, but first she'd like to be the next Miss Cinco de Mayo. The Sunnyside High School student is the daughter of Alfredo and Linda Jalifi of Sunnyside. A volunteer at Washington Elementary School, she spends her spare time baby-sitting and spending time with her four older brothers and sisters and friends.
Candidate Maria Elena Macias, 18, of Outlook is a senior at Sunnyside High School. A student in the high school's nursing assistant program, Macias hopes to attend Yakima Valley Community College to study nursing. One of five children, she is the daughter of Isidro and Margarita Macias.
Candidate Rosie Moran hopes to attend college in order to major in early childhood education upon graduation from Sunnyside High School. The 17-year-old is active in Grizzliettes, Clubs TATU and SADD, as well as being the senior class treasurer. Moran is also the dance team treasurer. In addition to her school work, she holds a part-time job at the Sunnyside Taco Bell. She is the daughter of Vicente Moran.
Candidate Iris Ruiz, 17, is a student at Sunnyside High School, where she is a member of National Honor Society and Club SADD and her school's chapter of Future Business Leaders of America. Ruiz, the daughter of Angel Ruiz and Leticia Chavez of Sunnyside, is also a member of the Sunnyside Police Explorers Post. Her association with the police scouting group has encouraged her to study criminal forensics at Eastern Washington University.
Candidate Maribel Sanchez, 16, is a Sunnyside High School student, who enjoys styling hair. One of six children, she is the daughter of Juan and Julia Sanchez of Sunnyside. Sanchez said she hopes to go to college, but hasn't yet chosen a career course.
Kathya Quijano, 17, of Prosser is the final candidate for the Miss Cinco de Mayo title. A student at Sunnyside High School, she is a member of Link Crew, MeCha and Club SADD. Quijano is a member of Grizzliettes and plays high school softball. She is also a Sunday school teacher at her church. One of three children, she is the daughter of Anita Lopez of Prosser. Quijano hopes to attend Washington State University to study architecture.
. Julia Hart can be contacted at
(509) 837-4500, or you can e-mail her at jhart@eaglenewspapers.com