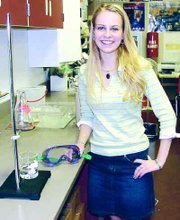 Her calm exterior and slender build belies the bundle of energy which makes up Stacey Gorski.
The Sunnyside High School senior, who last month was honored as the Sunnyside Chamber of Commerce Outstanding Youth, has had no time to let that honor settle on her shoulders.
Between her huge academic load at SHS, the honor student is busy completing her senior project, while filling out reams of college scholarship applications. As one of the top five students in her class, the 4.0 G.P.A. student is also preparing to present her regional and state award-winning science project at the annual International Science and Engineering Fair to be held in Portland, Ore. in May.
Since mid-March, the petite teen has kept busy carting her science project from Kennewick to Bremerton, "wowing" science fair judges with her insightful inquiries into the side effects of new drugs being used for cancer victims in chemotherapy treatments.
The youthful researcher, who has been collecting science fair awards since her middle school years, has had one of her best science years to date. She collected both the Grand Championship at the Mid-Columbia Regional Science Fair held in Kennewick in late-March and the bronze medal at the Washington State Science and Engineering Fair held April 2 in Bremerton.
When not attending to her research or classes, she is in the midst of preparing scholarship applications in order to fund her future career as a pharmacist.
"I've been accepted to attend the University of Sciences in Philadelphia to study pharmacology," she explained.
"I plan to focus on oncology pharmaceuticals," she explained.
Gorski said it was a summer job working at the North Star Lodge for cancer patients in Yakima that helped her to decide her post-high school education plans. "The experience helped me to focus on the side effects of drugs on chemotherapy patients.
"Some of the new drugs used to treat the side effects of the chemo present their own set of side effects," she explained.
"I want to be more involved with that type of research," she said.
Gorski said she has always been interested in the science of medicine beginning with her first science project. "It seems pretty simple now, but I was looking at how blockages in the arteries affect blood flow as a sixth grader," she smiled.
"I've always studied compounds as they relate to disease on plants and animals. But this year is the first time I really focused on humans," she added.
Gorski said her research at Yakima's North Star Lodge gave her an opportunity to see first-hand the effects of cancer fighting drugs on patients. "I was able to see the impact science research has on people," she said.
Her work experience has cemented her desire to help people, she said.
In addition to her dedication to research, Gorski has also found time for fun. She is a member of the Sunnyside Rotary Swim team and played high school soccer. For the past three years, she has also competed on the Grizzly Apple Bowl and Knowledge Bowl teams. Her area of expertise - science, of course.