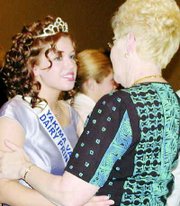 YAKIMA - Nicole Linde, 18, of Outlook has been selected as the Yakima Valley Dairy industry's youth ambassador for 2004.
The daughter of LaDon and Sandra Linde of Outlook, she was awarded the Yakima Valley Dairy Princess crown during ceremonies held this past Saturday night at the Yakima Convention Center.
Sponsored by the Yakima Dairy Women, Linde was one of two candidates vying for the crown this year.
Named as alternate was Carly DeGroot, 17, a junior at Sunnyside Christian High School.
Linde replaces reigning Yakima Valley Dairy Princess Kendra Golob of Granger, who will now advance to seek the state dairy princess title.
Linde, a senior at Sunnyside High School, is a member of a fourth generation dairy family. The Linde family owns and operates an 800-Holstein dairy near Granger.
The second oldest of six children, Linde is active in Leaders in Action and Key Club, as well as being a former legislative page in the state House of Representatives and the Senate.
She is a recipient of the Hugh O'Brian Youth Leadership award. In addition, she attends classes through Running Start at Yakima Valley Community College, where she expects to receive her Associate of Arts degree at the same time as her high school diploma in June.
During the coming year, she will represent the dairy industry at ribbon cuttings, parades and at other dairy industry-sponsored events.
Named as the Yakima Valley Dairy Princess Alternate, DeGroot is the daughter of Dan and Carolyn DeGroot.
She is a member of National Honor Society and has received honorable mentions in the National Guild Piano auditions. She is the vice president of her school's FFA chapter and is a class officer.
In addition to the dairy princess announcement, the Yakima Valley Dairy Women presented two $1,000 scholarships to students pursuing careers in agriculture. Scholarship recipients are Brandon Boogerd and Vanessa DeJong.
Jeff Brooks of the Udder Guys Dairy Service of Sunnyside was named the Dairy Women's "2004 Friend of the Dairy Industry" during the banquet.