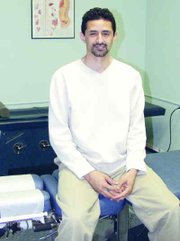 With deep ties to the Lower Valley, opening a chiropractic office in Sunnyside seemed like a natural step for Dr. Luis Nicacio.
As a kid Nicacio visited the Lower Valley to visit his grandparents, who lived in Mabton. His wife, Cynthia, grew up in Sunnyside.
"It's been a homecoming of sorts for us," said Nicacio. "I remember as a little guy in the 70s, coming with my great-grandmother and grandfather to Sunnyside when I stayed with them for the summer."
Since 1994, Nicacio has been a practicing chiropractor. He worked in Yakima for about two years before opening his own office in Pasco in 1996. His new office in Sunnyside is located at 426 S. Seventh St.
"My dad really pushed education," said Nicacio, who added that of his nine brothers and sisters two are medical doctors, two are optometrists, one is a dentist, one a dental hygienist and another is a physical therapist.
"A lot of us went into the health care profession. It was something, for me, that was stressed as something important," he said. "For a lot of kids they aren't told there is anything other than farm labor."
With an office in Sunnyside, Nicacio said he will be able to provide patient care to English and Spanish speaking people, since he is bilingual. More than 50 percent of his clientele in Pasco are Spanish speaking patients.
"In our office we do a lot of injured worker treatment, a lot of car accident treatment and a lot of acute care," said Nicacio.
He also has a chiropractic sports certification through the American Board of Chiropractic Sports Physicians.
Nicacio is also a Washington State Department of Labor and Industries independent medical evaluator.
Nicacio does more than just make adjustments and send patients on their way. He also emphasizes self care through diet and exercise and helps his patients find natural ways to heal the body without medications. Some people's back problems stem from something as simple as not walking properly on their feet. He said shoe orthodics can help with some pain complaints.
"People are looking for more natural ways of healing," said Nicacio.
He also works with massage therapists as a part of some patient's healing process.
"In chiropractic we don't just look at the area of complaint. We look at the whole body," said Nicacio.
The 41-year-old father of four is a graduate of Palmer College in Davenport, Iowa.
At his Sunnyside office he has the equipment to help all ages from newborns to the elderly. He also has a table that allows him to provide care for pregnant women and wheelchair patients.
"We do a lot of rib work and extremities," said Nicacio. He is in the process of getting his certification to work on feet, ankles, knees, wrists and elbows.
He also has a roller massage table, which helps put the natural curve back in patients' spines.
"W try to do more than just adjustments. We do a little bit of everything," he added.
Nicacio will be open in Sunnyside Tuesdays and Thursdays 8:30 a.m. to 1 p.m. and 3 to 6 p.m., and Fridays from 8:30 a.m. to noon.