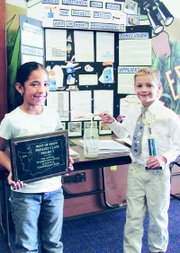 BREMERTON - Three students from Grandview's Harriet Thompson Elementary School traveled to Bremerton two weeks ago to compete at the Washington State Science Fair.
Maryjane Garcia, Tabitha Veiga and Harley Hurst, who represented their 21st Century after-school classmates at the science fair, brought home first place and "Best of Show" honors.
Teachers Tiffany Wise and Lucy Prieto have been working with a group of 25 students every day after school for the past eight weeks on a science presentation on crystals. Their project was titled "Which substance will grow the biggest crystal and in what environment."
Garcia, a second grader at Harriet Thompson, said in the class she has learned that crystals can be different colors and sizes.
"Some crystals weigh more than others," piped in Hurst, who is also in the second grade.
To make crystals, the students used epsom salts, salt and sugar and mixed the solutions in a pan on a stove. They made crystals and kept them in a variety of locations, including the refrigerator, to see how they would grow in different environments.
"My favorite part of the project was making the crystals," said Garcia.
"I liked going to the Pacific Science Center," added Hurst.
Both students also liked their trip to Bremerton to make the presentation to judges.
According to Wise, Hurst, Garcia and Veiga auditioned for the opportunity to present the project at the state science fair, representing the other students in the class.
"The whole class worked on the project," she added.
As a part of the project the students had to write their own hypothesis, methods used when conducting the experiment, a conclusion and application.
They also researched crystals before starting on the project to gain background knowledge on the subject.