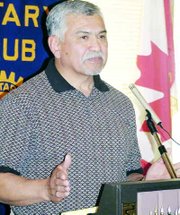 Yakima County Commissioner Jesse Palacios is pumped.
The five-year veteran of county government is excited about the recent completion of the Wal-Mart distribution center in Grandview and the many multi-jurisdiction partnerships the project created.
"I'm excited about the many partnerships that have developed in the past five years, helping to increase and improve development in the county and its cities," he told the Sunnyside Noon Rotary Club Monday.
Palacios sees those partnerships as the start of many more such linking of mutual interests, such as his latest effort to partner with the City of Sunnyside on an improvement project northeast of Sunnyside.
Palacios said the County Commission and the Sunnyside City Council are worked to create a partnership for improving infrastructures in the area north of Sunnyside, near Rouse Road and Beckner Alley.
The area, which borders the Sunnyside city limits, is the target of a major infusion of state and federal funds to extend sewer lines, as well as sidewalks and paved streets to the area, if the partnership proves successful, Palacios told the Rotarians.
He said the partnership includes the changing of the designation of streets and roads in the area near Baggley Drive and Beckner Road, and could result in a $3 million project.
Palacios said the city and the county are in the process of seeking funds from the Department of Transportation, as well as community block grants to finance the project. Added to the partnership is the Sunnyside School District, which will be building a new school in the area just to the east of the targeted area, he said.
The Sunnyside School District's recent decision with the voters' approval to build a new school on the east side of Washout Road, just beyond the city limits, is an opportunity for yet more growth in that area, Palacios said.
Another partnership being developed is with the Sunnyside Valley Irrigation District, for the purpose of piping the canal area along the east side of Washout Road, he said.
"These are very exciting times," he said. "We now have to work out the details. But the groundwork has been laid," he said.
"I think when it is completed the north Sunnyside project will be one we can all be proud of," he added.