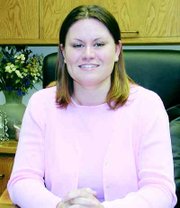 Jennifer L. Johnson, who passed the Washington State bar in October, is now working from the Garrison Law Offices of Sunnyside.
The young lawyer, originally from Southern California, hopes to specialize in family law. For now she is taking cases as they come in, she said.
Johnson studied law at Southwestern University in Los Angeles, after earning her undergraduate degree in political science from California State University at Fullerton.
Before going into private practice, Johnson served a summer internship in the Los Angeles County Prosecutor's office, specializing in domestic violence cases.
She and her husband, Dr. Christopher Johnson, currently live in Prosser. Originally, the Johnsons had moved to the Lower Valley in order to purchase the vision practice of the late Dr. Warren Meadowcroft of Sunnyside. Johnson said her husband has instead opted to go in a different direction.
"He is now the owner of the Columbia Center Vision Clinic in Kennewick," she explained.
The young couple recently purchased an older home in Prosser. "We are spending most of our free time working on it," she said.