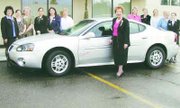 When Gerri Mitchell first became a Mary Kay consultant in 1973 she was moving home to Sunnyside to be near her elderly parents, for what she thought would be a short period of time.
Thirty-one years later, she is still selling the beauty products in homes around the Lower Valley. She recently received her 10th Mary Kay car, a platinum colored Pontiac Grand Prix, as part of the Mary Kay incentive program. The car is one step away from the pink Cadillac the company is known for.
Mitchell's plans in 1973 were to stay close to her parents for a few years before going into the ministry with Campus Crusades for Christ, but her mother lived until she was 106, only passing away a few years ago.
"I was going through a divorce and decided to move home," said Mitchell. She had been living and teaching in a military community lifestyle before returning to Sunnyside.
She first became aquatinted with the product through a neighbor who was a Mary Kay consultant.
"I started using the product and it did such great things for my skin," said Mitchell.
"I could have gone back to teaching, but I wanted to do things for my parents," said Mitchell. "This allowed me to set my own hours and be free to spend time with my parents."
Mitchell was a consultant for about nine years before she began moving up in the company. It was through divine intervention that she stayed with the company and hasn't quit.
Discouraged because her plans to enter the ministry were not working out, Mitchell said a friend of hers said that maybe Mary Kay was her ministry.
In 1981 she decided to take the next step in the Mary Kay ladder and debuted as an independent sales director.
A company founded on Christian principles, Mitchell said that she believes God has used her in the lives of women she has come into contact with through Mary Kay, especially the 43 women who are part of her unit.
The women in Mitchell's unit are scattered across the United States. She has members in Washington, Idaho, California, Colorado, Illinois, Indiana, Michigan and Tennessee.
"They are mostly friends who used to live in the Lower Valley who moved away," said Mitchell. "In Mary Kay we don't have territories, so we can build anyplace in the United States."
It was her unit of women that helped her earn her 10th Mary Kay car.
"We were working to win the Cadillac," said Mitchell, referring to the signature light pink Cadillac DeVille, the top prize among Mary Kay directors.
In six months Mitchell's unit sold over $71,000 in merchandise, qualifying her for the platinum Pontiac Grand Prix with the hot pink MK Signature scrawled across the side. The car Mitchell traded in for her new car was her cherry red Pontiac Grand Am, which she received as a "Grand Achiever" with the company. Her eight other cars were also won as part of the "Grand Achiever" program. Mitchell was a charter member of the "Grand Achiever" award.
But, to Mitchell, the company is about more than just winning cars and selling cosmetics.
"It's exciting, for me, to see the things that have enriched my life and the people in my unit," said Mitchell. "I've seen personal growth and confidence.
"The company is more than selling cosmetics. It's enriching women's lives," Mitchell added.