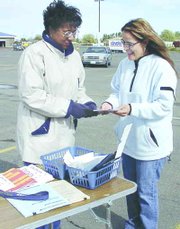 For more than a year Valley resident Gracie Galaviz has been dealing with an issue involving the management at the apartment she rents in Grandview. However, it wasn't until Tuesday morning that she learned that she can do something about it.
"I really didn't know where to go," Galaviz said, noting that she thought the issue would be resolved by the apartment's management staff. But a year and half later, the issue still stands.
Tuesday morning, Galaviz along with a handful of other Lower Valley residents stopped by the U.S. Department of Housing and Urban Development (HUD) van, which was parked in The Valley's Market parking lot from 9 to 10 a.m. According to Arlene Patton, HUD field office director for the Spokane field office, the van is currently on tour throughout Washington, Oregon and Idaho as part of National Fair Housing month. She said the van is HUD's way of reaching out to rural communities, ensuring that people living in those areas are aware of their rights to equal housing.
Tuesday the van was scheduled to stop in Sunnyside, Benton City and Kennewick. Patton said at each stop the van is attracting as many as 20 people who are picking up literature on the Fair Housing Act and asking questions about their rights.
Patton said people stopping by the van are typically inquiring about the rights renters have, as well as coming to them with questions, such as why they can't qualify for particular types of housing.
"We're handing out a lot of literature," Patton said.
She said some people are surprised that they have the kinds of rights the Fair Housing Act allows them.
"I think it is definitely a surprise to them," she said.
Patton said the team of people driving the van from place to place is also talking to people about the 800 number that is available for them to call if they have any questions about their particular situation. She said the phone number (1-800-877-0246) can be used if a person has any questions or if someone wants to know whether or not they have a reason to file a complaint.
Patton said the HUD van is targeting rural areas during the month of April because the department already covers the urban areas of Washington, Oregon and Idaho. "But we don't get out to the rural areas like we should," she said.
As for Galaviz, she said her visit to the HUD van left her feeling better about her situation.
"I feel like I'm on my way to finding some help," Galaviz said.