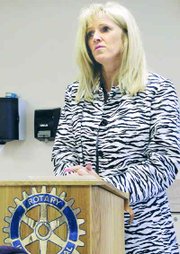 Sun Terrace is a local facility that offers different options to its residents, be it the various activities they can choose to take part in or the long list of services the facility offers. Wednesday morning, Sun Terrace Marketing Director and member of the Sunnyside Daybreak Rotary Club Cheryl Larrick talked to fellow club members about her position at the assisted living facility.
Larrick said it was only just a year ago that she was asked to take on public relation duties at both Sun Terrace in Sunnyside and in Prosser.
"My life has changed quite a bit," Larrick said, noting that working at both locations keeps her busy.
Larrick said since the assisted living facility opened 10 years ago the level of care that is offered has changed. She said the state keeps pushing the facility to take on residents who require greater care. She said Sun Terrace now takes people with early stages of Alzheimer's and with Parkinson's disease. Larrick explained that the facility accepts residents with early stages of Alzheimer's because if a family waits too long to move their ailing relative into Sun Terrace it can be impossible for them to adjust to a new place.
Larrick said a lot of people move into Sun Terrace as a way to alleviate the loneliness they feel. She said before moving into the facility many people are living at home alone, which can be lonely. Larrick said Sun Terrace employs an activity director who ensures that there is always a long list of things for residents of the facility to do.
Larrick said Sun Terrace is home to its residents. She explained that the facility conducts regular council meetings, where residents tell Sun Terrace staff members what types of activities they would like to see scheduled, types of food they want to see added to the menu and any other things they would like to see at the facility.
"It's just whatever the residents want," she said.
Larrick told Rotarians that Sun Terrace also offers a variety of different services for its residents. She said there are housekeeping services, noting that housekeepers go into the resident's apartments once a week to help clean up.
Larrick said she encourages anyone who is thinking about locating a family member to Sun Terrace to come out and visit the facility. She said she also encourages people to talk to people who are currently living at Sun Terrace about how they like it.