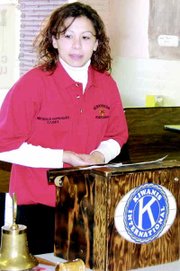 Sunnyside High School junior Michelle Gonzalez is motivated to move forward with the Sunnyside Cadet program.
Only a couple months old, the program has already given a group of four teens a look at what it is like to work for a fire department.
"We are learning how to use equipment on the fire truck or ambulance," Gonzalez told Sunnyside Kiwanians Thursday morning.
They have also been taught life-saving skills and firefighting basics.
Although their role at the Sunnyside Fire Department is strictly in an auxiliary capacity, Gonzalez and her fellow cadets have been soaking in as much knowledge as they can.
"We are learning these things so we can know what it is like to be in the fire department," said Gonzalez.
Gonzalez's goal is to eventually go into the medical field. A member of a nursing program, Gonzalez would like to become an emergency room nurse, traveling nurse or flight nurse, but she has also found interest in the work of medical personnel at the fire department.
"I like the excitement of being first person on the call," she said.
Currently, there are four members of the cadet program, but there is room for two additional members.
Applicants have to undergo an interview and also pass the physical test, which includes dragging a hose, a 135-lb. dummy and moving hoses, which Gonzalez did during the test.
"You have to be able to carry somebody," said Gonzalez. "You also have to be there on time, wanting to learn."
The cadets meet once or twice a week.
"I don't want to slack off, I want to keep the kids motivated," said Gonzalez.
What has been helpful has been the help from the firefighters and paramedics at the fire department.
"They're all helping out," said Gonzalez.